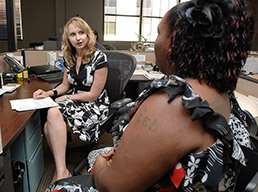 Nancy Dauby, a health care careers adviser, counsels Latisha Allender during a training session at Work One in Indianapolis. The centers are scaling back the number of career counselors to adapt to budget cuts. (IBJ Photo/ Perry Reichanadter)
Funding for the state's work-force-development agencies to help Hoosiers develop job skills has fallen sharply, even as unemployment remains high and the economy is still shaky.
Because of federal budget cuts, Indiana's share of federal Workforce Investment Act funds fell $11.3 million, or 18 percent, to $53.1 million in the fiscal year that began July 1.
On top of that, stimulus funds for work-force agencies ran out on June 30—in some cases cutting millions of dollars from operating budgets at a critical time.
WIA is the main funding for training programs providing job skills for at-risk youth and adults in need of work or additional income. Those programs range from academic support and career counseling for high school students to training in welding, engineering technology or other technical fields through institutions such as Ivy Tech Community College.
Money for those programs is administered by the state's regional work-force boards, which operate Work One assistance centers. At those centers, career counselors determine whether clients they serve need additional skills to find jobs.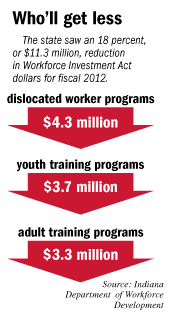 The state has minimized the initial impact of the $11.3 million hit on those regional boards by immediately doling out money it normally would have held back to respond to mass layoffs or to distribute through competitive grants.
But the cuts ultimately will force some work-force assistance bureaus to scale back office hours, train fewer people, and scour for administrative efficiencies.
"Certainly, unemployment is getting better, but the need is still great and the skill gap is pretty large," said Brooke Huntington, CEO of Employ Indy, which runs Work One centers throughout Marion County.
"We still have folks who are actively seeking employment assistance, and it's difficult to have our funding diminished during such an important period of time."
Huntington said her agency's budget dropped from $21 million to $16 million this year, mostly because of the loss of stimulus money.
To reduce costs, Employ Indy will use fewer one-on-one job counselors and employ technology to help with tasks such as resume assistance—moves Huntington doesn't believe will hurt service.
Winning other federal grants helped Employ Indy avoid making deep cuts to training programs this year.
But officials at the state's work-force agency say the biggest pain for boards across the state could be felt in coming years, when deeper cuts to training dollars are expected.
Agencies "have to make these adjustments now," said Randy Gillespie, chief financial officer for the state's Department of Workforce Development. "But we will really see the impact next July."
'A serious impact'
A couple of factors triggered Indiana's recent cuts.
Washington lawmakers trimmed the overall Workforce Investment Act allocation by $314 million, or about 10 percent. In addition, Indiana's share of that funding fell another 8 percent because the state's unemployment rates were below a certain threshold.
Indiana's June unemployment rate was 8.3 percent. But economists say that figure understates the obstacles to finding new employment because it excludes people who have given up on looking for work.
On Aug. 9, the Federal Reserve announced it would keep a key interest rate near zero through mid-2013—an acknowledgement that policymakers do not expect a robust recovery anytime soon.
To help make up for Workforce Investment Act cuts, the Indiana Department of Workforce Development plans to use attrition to reduce its administrative costs 25 percent.
The state also will offset the initial hit to regional work-force agencies through budgetary maneuvers.
For example, Indiana typically withholds 25 percent of the funds designated for laid-off workers as an emergency reserve. That money helps workers find new jobs following a mass layoff.
But this year, the state will hold only a 5-percent reserve and will allocate the rest to the regional work-force agencies right away.
With the moves, the regional boards still must weather an 18-percent reduction in Workforce Investment Act funding. But the immediate cut is only $1.7 million because the state is giving local agencies the money sooner and through a different method.
Nonetheless, between the WIA cuts and loss of stimulus funds, some service providers are taking a big hit.
The Northeast Indiana Regional Workforce Investment Board, which serves Fort Wayne and surrounding communities, said its funding is falling $7.1 million, or 39 percent, this year.
About $400,000 stemmed from the reduction in the WIA allocation. The rest comes from the loss of other funding sources, such as the stimulus and competitive WIA grants.
To cope with the reduction, the agency eight months ago reduced the days eight of its 11 Work One centers are open from five to three. The agency also added services at those centers, which are in rural areas, in an effort to offset the impact of reduced hours.
Kathleen Randolph, the board's CEO, estimates that, because of cuts, her agency will train only about 3,000 people this year, down from 12,000 last year.
Randolph serves a region that is heavily reliant on manufacturing. Job-seekers need technical skills to land those jobs, she said.
Conversely, firms considering locating a plant in the region might be reluctant to pull the trigger if there aren't enough skilled workers to draw from.
"I think it's going to have a serious impact," Randolph said. "When a site selector is looking to bring a new company, they want to know right off the top, 'Do you have the work-force here?'"
Harry Holzer, a Georgetown University public-policy professor, told a U.S. House of Representatives committee in April that, even before the WIA cuts, skills-training funds were not keeping pace with demand.
"There is little doubt among most labor market analysts that the growth of education and skills among American workers has not kept up with growth in the labor market demand for these skills in the past three decades," said Holzer, a former economist for the U.S. Department of Labor.
A different system
To offset the WIA funding reductions, the federal government plans to earmark $125 million for competitive grants that states can seek. Gillespie of Indiana's work-force agency said the state intends to pursue those.
But the more painful cuts likely will come in future years, as the federal government cuts back further and other federal grants that organizations have tapped to supplement their budgets dry up.
That's already happening. In March, for example, Employ Indy applied for a three-year, $4.4 million grant from the U.S. Department of Labor. But because of budget cuts, the federal government nixed it a few weeks later.
In addition, because the state this year gave most of its emergency money to local agencies upfront, it won't be available as a cushion to offset future cuts.
This year, Employ Indy found administrative efficiencies—it eliminated training sessions and consultants who helped with planning, for instance—to preserve $7.4 million of its $7.9 million in training dollars. But Huntington said it will be difficult to cut much deeper.
"We would have a hard time with another hit as significant," Huntington said. "One of our main objectives this year is to develop and diversify our funding sources."
The state's agency also will look to adapt to the likelihood of less money. Gillespie acknowledged that eventually could entail scaling back core functions, such as the number of Work One offices.
"There's no doubt there will be less money in work-force programs going forward," Gillespie said. "Our work-force system is going to look different."•
Please enable JavaScript to view this content.