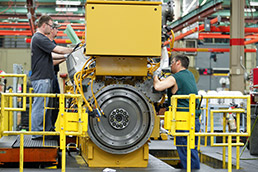 Engine makers, such as Caterpillar Inc.'s Lafayette Engine Center, have added 1,400 jobs in the past year in Indiana. (Photo Courtesy of Journal & Courier, Lafayette)
Two years into the economic recovery, bright spots in the Indiana job market are still hard to find.
One blew in last week from Los Angeles, when Farmers Insurance Group opened a new office in Castleton with 25 employees, who will recruit and train 300 insurance agents over the next three years.
Farmers, which is owned by Switzerland-based Zurich Financial, is trying to broaden its geographic footprint, since nearly half its business comes from Texas and its home state of California.
"Our plan is just to double the size of the company. And that goes for Indiana," said Dave Thue, director of the new Farmers office, which officially opened Aug. 11. "We want to double the size of our market share in Indiana."
The insurance industry—which added 1,800 jobs in Indiana in the last year—is one of the few glimmers of light on Indiana's horizon that could—just maybe—augur better days ahead for the state.
Others include engine makers, nursing homes and temp agencies, according to U.S. Bureau of Labor Statistics data. Entrepreneurship also appears to be picking up, in spite of declines across the country.
Columbus-based Cummins Inc. is the state's shining star, as its success selling engines in foreign markets has created demand for engineers and technicians at its southern Indiana locations. In March, the company said it expected to add 1,000 jobs in Indiana this year, on top of the 6,000 people it already employs in the state.
On Aug. 13, Cummins hosted an all-day job fair in Columbus, looking to hire engine technicians, paying $19 an hour and providing benefits.
Another bright spot is Illinois-based Caterpillar, which employs 1,600 workers at an engine plant in Lafayette. The company announced plans last year to add more than 100 jobs at a distribution center in Greenwood and 650 jobs in Muncie to make locomotives.
"On the manufacturing side, it's been one of the less-weak sectors," said Tim Slaper, director of economic research at the Indiana Business Resource Center. "I'm not going to say anything's strong."
Digging out
Indeed, from Indiana's employment peak in June 2007 until July 2009, one out of every 12 jobs in Indiana disappeared, according to June figures from the Bureau of Labor Statistics. In the two years since that employment trough, only one out of every six of the jobs lost has returned. 
That leaves more than 200,000 fewer Hoosiers working today than were working four years ago.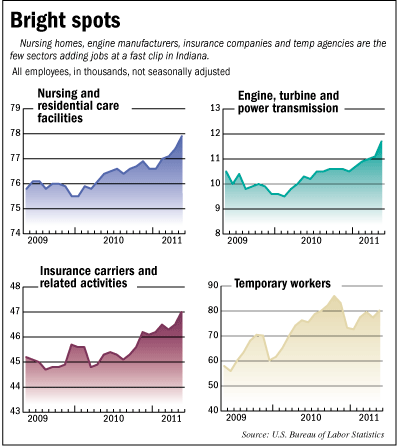 Manufacturing, after precipitous declines from 2007 to 2009, has started to recover in the last two years, adding 25,000 jobs. But the state's staple, auto manufacturing, remains flat as car sales are sluggish.
Makers of engines, turbines and power transmission equipment—including Cummins and Caterpillar—have added 1,400 jobs in the past year, growing twice as fast as that sector nationally. 
Compared with the nation as a whole, Indiana's overall job losses were substantially worse: For every three Americans who lost work, four Hoosiers lost jobs. And Indiana's recovery has been slower: For every 50 Americans who lost jobs, 10 have returned to employment. But for every 50 Hoosiers out of work, only eight are back on the job.
This is a familiar story for Indiana over the past several decades. Indiana gets hit harder by recessions and recovers more slowly afterward.
Sustaining Indiana—and the rest of the nation—have been the education and health care sectors, which have grown steadily overall throughout the recession. But this year, employment growth among universities and hospitals has flattened out.
An aging population has added 7,000 jobs since 2007 at nursing homes and long-term-care facilities, which collectively are Indiana's ninth-largest employer. 
Pay challenges
The wages Hoosiers are getting from their jobs are losing pace against the national average, too. Among all private workers, Hoosier workers earned $706 per week in June 2007, or about 98 percent of the national average.
By June of this year, average weekly earnings had risen to $713, but the rest of the nation had advanced much faster. Hoosier earnings from their jobs now equal just 91 percent of the national average. 
The gap is smaller when Indiana's lower cost of living is factored in, but the trend is clearly in the wrong direction.
Patrice Waidner, state board chairwoman of the Business & Professional Exchange, has seen those depressed wages firsthand as she has coached out-of-work white-collar workers through job searches.
"I will have professionals, they go over and work at Amazon, they go over and work at UPS, they will work at FedEx, until they get back in their professional jobs," Waidner said.
"Once they get back into their occupation," she added, "they're accepting lower positions, therefore lower pay."
Waidner said workers with information technology and engineering backgrounds have had the most success finding jobs. Cummins and Rolls-Royce Corp. are part of that trend. So are Angie's List, which announced plans this month for 500 more jobs at its downtown headquarters, and ExactTarget, which in October announced it would add 500 jobs by 2015.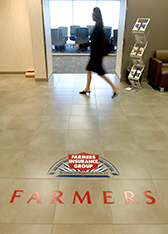 Farmers Insurance Group officially opened this new office in Castleton on Aug. 11. It plans to recruit and train 300 agents over the next three years. (IBJ Photo/ Perry Reichanadter)
The downside, however, is that at least half of those types of positions are only on contract—not permanent and with benefits, Waidner said.
That trend can be seen from the growth in temp agencies, which have added 22,000 jobs in Indiana in the last two years. Usually, rises in temp hiring signal that rises in full-time hiring are around the corner. But not this time, said economist Graham Toft, founder of GrowthEconomics Inc. in Indianapolis.
"Temp services is where businesses are turning to instead of hiring," Toft said. "They're keeping their core staff lean and keen and mean. That is a long-term trend."
The economic recovery is so slow, both here and around the country, because this recession was sparked by a financial crisis, rather than simply a pullback in production, said Morton Marcus, a retired Indiana University economist.
"The financial issues historically have taken longer," he said. "And the reason that they take longer is that they are much more damaging to confidence."
And with fresh financial scares blowing in from Europe, Marcus has little hope that banks will open up their lending spigots anytime soon.
"Those [businesses] that have to work off of debt have to prove their case to the people that are very, very cautious," Marcus said.
Now that the federal stimulus spending is tailing off, government employment in Indiana is going with it. After hitting a peak of 451,000 workers in May 2010, nearly 30,000 government jobs have disappeared since then.
But one other hopeful sign is new-business creation, which, along with small and medium-size businesses, is often a key to the engine of job creation coming out of recessions.
Nearly 12,000 new establishments opened in Indiana last year, about 16 percent more than did in 2009, which was the slowest year for new businesses since the Bureau of Labor Statistics started keeping records in 1994.
Those new companies created 48,000 jobs by the end of 2010, the most recent data available.
Nationally, new-business creation continued to fall in 2010, as did the number of jobs created by new ventures.
Cam Carter, vice president of small business and economic development at the Indiana Chamber of Commerce, said he senses entrepreneurial activity picking up even more this year.
He has actually gotten involved himself, investing money in the soon-to-open microbrewery Triton Brewing Co., near Fort Benjamin Harrison. The company will employ fewer than 10 at its start, Carter said.
"Entrepreneurship is absolutely the key to leading out of a recession," Carter said. "They're small, they're private, the data's hard to quantify. But I think there's a lot of churn like that out there."•
Please enable JavaScript to view this content.