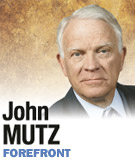 One of the toughest decisions good leaders have to make is knowing when to quit. A savvy leader knows when it's time to step down, mentor a new leader, or relinquish power. Separating ego desires from what's in the best interests of the organization or a person's life can be difficult.
Many leaders tend to develop a little hubris, which makes it difficult for them to believe the organization can possibly get along without them. Deep down they don't want to give up power or influence, which has become part of who they think they are. Other times, they know it's time to quit, but want to hang on for just one more triumph.
I've faced this kind of decision a number of times. In 1973, I was president of Lilly Endowment and received an offer to become president of PSI Energy. When I discussed the idea with confidants, they said, "Why would you leave a job that has security and is in the heart of the community's decision-making process?"
After some careful thought, I realized other, younger leaders could do the job just as well, and I felt I had done all I could to change the organization. I was more of a risk-taker than the culture had allowed in the past. So I moved on to the for-profit sector.
The most recent experience was my decision to step down as chairman of Lumina Foundation for Education in March of last year. When the foundation was started in 1999, it did not have a firm policy on how long a board member should serve. I favored a limit. It was my theory that election to the board was not like being appointed to the U.S. Supreme Court. New ideas and creative thoughts should be encouraged.
Since I had advocated this policy, I felt I should walk the talk and step down as chairman even though my term as a board member would not end for three more years.
Right now, we have two Indiana politicians who have probably pondered the question of when to retire.
Sen. Dick Lugar, for example, could leave now with a great history of public service and a great reputation. However, I'm glad he decided to run again. We need his wisdom, vast experience and trust he has built with both sides of the aisle and leaders throughout the world. He is not always popular with all parts of the Republican Party, but few candidates are and his potential contribution to the country's future trumps that consideration.
Congressman Dan Burton, on the other hand, has the perfect opportunity to move on to another career. He has experience and seniority but his party will not lose his seat, because the district is overwhelmingly Republican.
Voters indicated in the last primary that it was time for a change. The congressman survived with less than 50 percent of the vote because he was opposed by four challengers who split the anti-Burton vote. He is unlikely to be so lucky this time.
This is the ideal time to step down. He can become a senior statesman, enjoy an exceptional retirement package, and devote his time to other kinds of public service.
Even though there are no hard-and-fast rules for knowing when to step down, I would consider the following: Is there a succession plan in place? Do you feel like you are covering the same ground over and over again? I call this the "been there done that" syndrome. Has the organization attracted a group of bright new young employees? Is the board membership diverse in terms of age, race and other characteristics?
Leaving doesn't mean you are going out to pasture or that there will no longer be exciting and challenging possibilities. This change process is part of life's journey and can be more important than the destination.
Knowing when to quit is a feeling largely based on intuition and common sense.•
__________
Mutz has held leadership positions including lieutenant governor and president of Lilly Endowment and PSI Energy. Send comments on this column to ibjedit@ibj.com.

Please enable JavaScript to view this content.