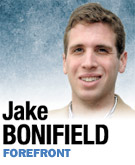 I have spent the past year or so casually following the Indianapolis mayoral race. Reading press releases, op-eds and campaign literature, I have tried to understand not just the issues, but how the larger debate will be framed. Crime, education and job creation will be center stage, of course, but who has the upper hand? For months, it has been unclear.
As I sat in traffic, marveling at how quickly downtown had been engulfed by a sea of orange traffic cones and fencing, the race finally came into focus. In a thinly veiled homage to the voters who likely don't know much about or have an opinion of their mayor, Greg Ballard has finally gone public with his efforts to improve Indianapolis. His "Rebuild Indy" campaign has all the trappings of a fourth-quarter Hail Mary, replete with direct mail and ubiquitous signage.
And in case your daily commute doesn't subject you to the detour advertising, both Ballard and his challenger, former Deputy Mayor Melina Kennedy, recently hit the airwaves with their first TV ads. They are each telling.
In her first 30-second ad of the 2011 cycle, Kennedy rightly seeks to introduce herself to the electorate, but instead of spending the bulk of the ad reading her resume, she focuses on education. In less than half a minute, Kennedy outlines specific policy goals such as ensuring that every student is reading by third grade and that school curriculums focus on math and science.
Her choice to inject substance into even her introductory ad says more about Kennedy than her resume could.
Ballard's first ad includes no such substance. In fact, beyond highlighting that he has been both a Marine and a mayor, the ad says nothing in the way of specifics in terms of his record or his plans for Indianapolis. His ad fails to address his broken promise to hire an additional 750 police officers, his plan for reducing crime or creating jobs.
Instead, unsubstantiated platitudes are flashed across the screen in hopes that the electorate will be soothed by a manufactured era of good feelings. Perhaps the least authentic scene shows Ballard walking alongside construction workers as he narrates, "[we have] built stronger neighborhoods," implying that safe, resilient communities are forged with materials, instead of education, economic security and a reliable public safety presence.
A few months out from Election Day, voters have what amounts to their first chance to reflect upon Ballard's accomplishments and credentials. They will find each wanting. Ballard's campaign seems either to have not prepared the candidate well, or is in some state of disillusion.
Earlier this month, in a speech before the downtown Sertoma Club, Kennedy laid out a plan for tackling the city's education crisis by appointing a cabinet-level position to help oversee education initiatives, focus on literacy programs, and dedicate resources and attention to pre-kindergarten pilot programs.
Ballard responded that he was "actually optimistic about education [in Indianapolis]." And if the mayor's optimism weren't enough to boost graduation rates, he added that "a lot of these things are getting done quietly."
The education speech was the second in a series of four policy addresses Kennedy plans to make in coming weeks. Her first, on crime and public safety, included an eight-point plan on how to make the city safer. Her campaign says that her plans for creating jobs and building stronger neighborhoods are forthcoming.
As for Ballard—the "accidental mayor" as WISH-TV Channel 8's Jim Shella dubbed him after his unlikely victory in 2008—he has yet to announce any major plans for his second term. Instead, he seems to be relying on his reputation and record to again compel voters to take a chance on him.
If that's the case, Kennedy should take advantage and allow his policy silence to contrast with her bold vision for Indianapolis into the next decade.•
__________
Bonifield is a political science major at DePauw University and president of Hoosier Youth Advocacy, an organization focused on increasing youth participation in the Indiana General Assembly. Send comments on this column to ibjedit@ibj.com.

Please enable JavaScript to view this content.