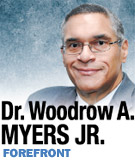 Indiana rarely leads the nation when adopting new health care trends. We are not on the bandwagon with our use of probiotics, the ingestion of "good" bacteria, where there is increasing scientific evidence of benefit to our digestive systems, and possibly our immune systems. Unlike Colorado, Hawaii and even New York, we don't do yoga, Pilates, walk or exercise as much as we should, and our obesity rates are higher as a result.
But there is one area where our failure as a state to act has consequences for those who want to be as healthy as possible as well as for those who don't. We still allow people who smoke tobacco to do so in public places, like restaurants and bowling alleys and far too many other entertainment establishments where the idea is to enjoy and have fun, not to breathe in toxic fumes from the cigarettes of our nicotine-addicted neighbors as secondhand smoke.
There is zero scientific doubt: Secondhand smoke injures and kills the people exposed to it. It is especially harmful to pregnant women and children where asthma is often exacerbated. Yet each year, when courageous, thinking legislators offer our General Assembly comprehensive anti-tobacco-exposure legislation, a few well-heeled lobbyists create specious arguments that weak and fearful legislators hide behind, and stop our state from moving forward.
In New York, they said clean indoor air legislation would kill the independent restaurants. It did not. They are as full as ever, even in a bad economy. In California, they said it would hurt small businesses that permit smoking or sell tobacco in public places. It did not. They found other products to sell.
So what is different in the dozens of states where the legislators actually listen to their state's physicians and public health experts? Adult smoking rates have decreased because tobacco-addicted people find it difficult to light up and then take steps to break their addiction. Exposure to secondhand smoke decreases dramatically.
No, there is no excuse for Indiana. We are way behind the rest of America on this one and it is hurting us badly. Visitors from out of state are often shocked that we still allow our smokers to hurt others. Many from other states have grown up (unlike Hoosier children) without tobacco exposure and are truly surprised that a state whose motto is "Hoosier Hospitality" would be so inhospitable to those who simply want to enjoy our facilities without risking exposure to a known lethal substance.
Tobacco, when used as directed, will kill you. It is the leading cause of preventable death in Indiana, far exceeding alcohol, narcotics, firearms and motor vehicle crashes. Nicotine (the addictive ingredient in tobacco) is one of the most powerful and addictive chemical substances in the world. If we were to restart history, knowing what we know today, it surely would be illegal.
But for now, it remains legal to sell to adults. Perhaps future generations will figure out how to rid the world of tobacco, but for now, we in Indiana need to pass a comprehensive anti-tobacco legislative package that keeps tobacco smoke away from all Hoosier children, wherever they are, and from all adults who want to avoid exposure.
In a few short months, our legislators will be back in session. They have the power to save lives by passing the legislation surely to be offered again by those in the House and Senate who understand both the health risks to Hoosiers and the competitive disadvantages for our state.
Yes, for me this is personal. My father, Woodrow Sr., died of lung cancer caused by cigarettes. So did his brother Rufus. So did his brother Alphonso. So did his brother Joseph.
Probiotics may be important to good health. Yoga, Pilates and other forms of exercise will help us feel better and should be encouraged. But exposure to tobacco smoke is lethal. And we must do more to stop it. It is way past time for Indiana to change.•
__________
Myers is a former chief medical officer for WellPoint Inc. and served as health commissioner for Indiana and New York City. Send comments on this column to ibjedit@ibj.com.

Please enable JavaScript to view this content.