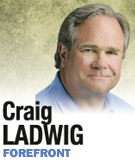 We were told that, when the debt crisis was over, government would get back to creating jobs.
Tell that to Abe Lincoln's father, who migrated from Kentucky across the great Ohio in search of sure title to land. Tom Lincoln was attracted to Indiana by a jobs program of historic proportion. It was not like the ones, however, they are talking about in Indianapolis or Washington.
More about that later. Note the map showing Hoosiers abandoning rural America.
This migration is arguably why outstate Indiana is failing. Some say it is our arrogant and dreamy zoning laws. Others blame monetary chicanery. Still others point to arbitrary and self-defeating regulations, the inheritance tax, mandatory unionism, regional tax nets, and a ruinous and pernicious loss of local government control.
It is enough to know that the remnant here understands the seriousness of the situation. We are desperate for assurance that our once-beautiful all-American communities can be revived.
So we fund economic development offices that post (for the gullible) the numbers of jobs purportedly saved or created. Meanwhile, we suffer a decrease in private-sector employment. Mostly, we worry that it's all bushwah.
Many years ago, our foundation hosted a coffee in Indianapolis for the late William F. Buckley. During the conversation, Buckley pulled from his pocket a large, inscribed coin. It read, "Don't just do something, stand there."
Is that our position? Stand there confident that the inscrutable workings of a free market will restore our failing towns?
Pretty much. Any outstate council or mayor would be wise to simply leave their citizens alone to take care of their property as they are able, perhaps saving or borrowing to improve things when possible and appropriate.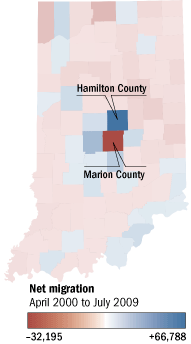 And while they stand there, they could busy themselves wiping the zoning laws clean, shoring up private-property rights and cleaning out the municipal code, especially its sections on taxes and regulations. You will want to toss anything that adds to the cost of starting a business, maintaining one or investing in one.
There will be those on the local council who will object each step of the way, saying this would strip the town of its civilizing influences, make it impossible to fund the amenities, unleash the savage forces of greed.
Exactly, if greed is understood to be a mere disparagement of ambition. Our cities must attract it if they are to grow, must use it to re-create the economic spontaneity of a frontier where Indiana can prosper through reinvestment and, yes, resettlement—a new Northwest Ordinance.
That, to return to old Tom Lincoln, was Indiana's first jobs program. The ordinance meant rule of law. It ensured liberty, the freedom to succeed or fail, to build or buy here or there, to contract with him or her, to invest one's energy and wealth as one thinks best under the Golden Rule.
And that's the only way it's going to happen, or has ever happened. Hoosiers need to quit messing around and get back to it.•
__________
Ladwig edits Indiana Policy Review, a quarterly journal studying local public policy. Send comments on this column to ibjedit@ibj.com.

Please enable JavaScript to view this content.