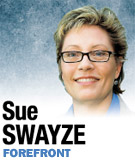 The emotional and social costs of family breakdown are well documented and understood by those who work with Hoosier families. Decades of research point to negative outcomes for both women and children from single parenthood, and new research shows the impact on our economy from the support we provide to fragmented families. The middle and upper classes get divorced; the lower classes simply don't marry.
It costs us all dearly, whether in tax dollars or broken hearts and unrealized futures.
How can we talk differently about the fact that single parenthood is such a strong predictor of women and children's poverty? That single mothers are 60 percent more likely to experience poverty and children who live without their fathers are more likely to face much tougher odds in educational outcomes, health outcomes, increased criminal behavior, and earlier sexual activity?
We don't need another study of childhood poverty to get it. United Way said it best in its 2008 Community Needs Assessment: "Given … the relationship between poverty and unmarried parents … an increasing or even steady rate of births to unmarried parents will be an ongoing impediment to reducing the rates of childhood and family poverty."
Indiana Black Expo's annual analysis of the state of black children actually recommends reducing unwed births by promoting marriage, and the recent annual report of the Indiana Commission on the Social Status of Black Males states that, "the data suggest that marriage or a strong family unit is vital to black males breaking the barrier of poverty."
In 2007, about 45 percent of births in Indiana were paid for by Medicaid. Many of these continue on the path of government-financed services, such as Children's Health Insurance Program, free and reduced lunches, Temporary Assistance for Needy Families, and food stamps, special educational services, and more. Forty-two percent of all births in 2007 were to single mothers.
A first-ever analysis of all 50 states in 2007 showed that Indiana experiences $839 million per year in additional social welfare costs and lost tax revenue resulting from broken families. I've told legislators on the "fiscal" committees and the "social services" committees (never the twain shall meet) that we're working hard on our tax and fiscal system only to bleed close to $1 billion out the back door in social services.
It is time we start to look at these issues as a whole: Broken families are costing us dearly in both dollars and struggling lives.
I teach healthy relationship classes in the jails and in the community, and see men and women regret choices. I see women who regret the "revolving-door boyfriend syndrome."
I see fatherhood programs as the darling of the social service field, but where are the motherhood programs? And all the while, tired grandmothers pick up the pieces of generations of single motherhood and care for babies.
I want more for my sisters than this! I want them to have the opportunities and security it takes to enjoy self-fulfilling activities, not just survival techniques. I don't want their children to be alone while they work multiple jobs and not show up at school activities, and grandmothers raise more babies.
And, frankly, I'm also tired of seeing men marginalized and kicked to the side.
History suggests that Murphy Brown did, in fact, start a great moral decline that has led to a norm we simply can't sustain. And it's not just among low-income. I've seen too many of my own ilk play nasty divorce games with the children and money as pawns.
I'm ready to talk about these things honestly and with an eye toward women and men making better decisions for their lives. I want to stand up for my sisters, but I also want to come alongside them and hold them accountable.
It's the new feminism—helping women and men get past "anything goes" to making smarter decisions for a more fulfilling life.•
__________
Swayze leads the Indiana Family Institute's Hoosier Congressional Policy Leadership Series and has held numerous lobbying positions with not-for-profit organizations. Send comments on this column to ibjedit@ibj.com.

Please enable JavaScript to view this content.