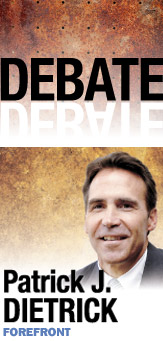 Question: Does Marion County need satellite early voting centers to increase voter turnout during this fall's municipal election?
Answer: Put simply, satellite voting in Marion County is an expensive solution in search of a problem. We do not need satellite early voting centers to increase voter turnout during this November's municipal election.
Moreover, while it seems intuitive that providing more locations to vote early increases the number of voters, a broad body of research demonstrates otherwise—satellite voting, a type of "convenience voting," does not enhance citizen participation and might actually hurt voter turnout.
Curtis Gans, of the Center for the Study of the American Electorate at American University, oversaw studies of national turnout from the November 2008 election, and concluded that myriad factors drove record numbers to the polls in 2008, but that "convenience voting" was not one of them.
Gans' research showed that of 12 states with turnout declines in 2008 from 2004, 10 had convenience voting, whereas of the 13 states with the greatest increases in turnout, seven had no convenience voting. These results corroborated his prior findings—that turnout increases in states with convenience voting lag those in states without convenience voting, and in years of turnout decrease, the decreases in states with convenience voting are greater.
Gans' findings are supported by our own elections. In Marion County, the historic turnout 2008 election, which had satellite voting, saw only a 1.05-percent increase in turnout over the 2004 election, which did not.
John Fortier of the American Enterprise Institute highlights the importance of a single Election Day even more clearly in his book "Absentee and Early Voting: Trends, Promises and Perils," where he finds the seeming promise of increased turnout from satellite voting does not occur.
Instead, early satellite voting is used by habitual voters, those who are already most likely to vote.
Fortier recommends shorter early voting periods, if any, and Election Day vote centers—centrally located mega polling places that take the place of numerous traditional precinct voting sites.
The issue of whether convenience voting increases turnout of habitual non-voters was addressed by Massachusetts Institute of Technology political scientist Adam Berinsky in a research paper titled "The Perverse Consequences of Electoral Reform in the United States." Berinsky found that, despite arguments that convenience voting "increase[s] turnout among less-privileged groups," this has not been the case. Rather, convenience voting does not "stimulate the unengaged voter."
Instead, Berinsky concluded that early voting just allows those who would have voted on Election Day to vote at a different time. Interestingly, he found convenience voters have higher median incomes and are better educated than the average voter.
Against this backdrop of research and data, as opposed to inflammatory, agenda-driven rhetoric, we must consider the significant cost of satellites. Last year, Marion County Clerk Beth White spent about $50,000 on early voting at two sites with 6,414 votes cast. This equates to about $7.80 per vote.
This is significantly higher than the roughly $5-per-vote cost for regular votes cast in the election. In these times of austere budgets, such largesse based on whim is irresponsible at best.
A final but important point is that every registered voter in Marion County who cannot vote in person on Election Day has the opportunity to vote by mail-in absentee ballot or early and in-person for 29 days before the election at the Marion County Clerk's Office.
With today's economic realities, the question is whether the asserted convenience of satellite voting, with no tangible increased turnout, is a wise use of taxpayer dollars. The research is clear: In spite of rancorous rhetoric, the answer is unequivocally no.•
__________
Dietrick is the Republican-appointed vice chairman of the Marion County Election Board and an attorney with Collignon & Dietrick PC. Send comments on this column to ibjedit@ibj.com.
Please enable JavaScript to view this content.