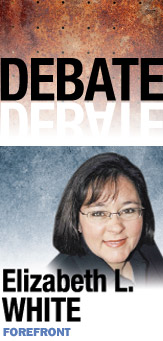 Question: Does Marion County need satellite early voting centers to increase voter turnout during this fall's municipal election?
Answer: As Marion County's chief election officer, I believe it is my responsibility to educate residents about voting to encourage participation in local elections. In 2008, I launched yVote!, a civics curriculum targeted to high school students where they can cast a sample ballot and register to vote. Since then, we've visited 22 high schools and registered more than 1,650 eligible students to vote.
Besides education and outreach, I believe flexible and convenient voting options encourage voter participation, which stimulates turnout. Hoosiers now vote either on Election Day or absentee—by mail, traveling board or in-person at a clerk's office.
Satellite voting is an expansion of in-person early voting, where voters cast an absentee ballot at additional locations throughout our community. However, opening satellite sites requires unanimous support of the bipartisan Election Board.
The board first offered satellite voting in 2008, and voter response was overwhelming. While 34,622 people came to the City-County Building during the traditional 29-day early voting period, 38,957 people visited two satellite sites in just 11 days.
Many voters told me they appreciated this option to avoid navigating downtown traffic and construction. In 2009, the board expanded satellite voting from two sites to three, and again, more early voters used a satellite location.
After we successfully ran two elections with satellite sites, the Republican Party said no to a plan in 2010 because they "weren't necessary."
Well, I challenge the Republicans' position. Clearly, voters demonstrated with their feet in 2008 and 2009 that satellite voting is important and necessary. In the real world, people are juggling several jobs, their kid's school schedule and family time. Providing early voting sites near where people live, work and take their kids to school gives everyone more opportunity to have their voice heard.
Is it cost, then? We estimate the cost for two satellite sites during a non-presidential year to be about $50,000—or the same amount the Ballard administration recently spent on developing an iPhone application for the Mayor's Action Center. I have to question the priorities of an administration that spends taxpayer dollars on an application that will benefit a fortunate few while continuing to obstruct more opportunities for nearly 600,000 people to access their precious right to vote.
To be candid, I think the local Republican Party believes limiting access to the ballot box helps its candidates. We certainly see that cynicism on display nationally where Republican legislatures are reducing early voting opportunities, enacting strict voter identification laws, and making it more difficult to register to vote.
I hoped this movement to disenfranchise voters would bypass Indianapolis, but I fear it has not. Rather than putting aside partisan interests, local Republicans are hiding behind Indiana law that permits one person—in this case their appointed Election Board member—to stand in the way of flexible and convenient voting options.
Although voters go to the polls in 11 weeks, it's not too late to adopt a satellite voting plan in Marion County. I remain optimistic that Mayor Ballard and his party will cooperate in the same spirit of bipartisanship that benefited tens of thousands of voters, especially single parents, people with disabilities and the elderly.
Indeed, I believe expanded early voting options are arguably more important in a municipal election where we see the lowest voter turnout, but the people we elect have the most direct impact on our lives. In fact, Ballard said publicly in 2008 that satellite voting was a "win" for Indianapolis voters. I agree.•
__________
White is Marion County clerk. Send comments on this column to ibjedit@ibj.com.

Please enable JavaScript to view this content.