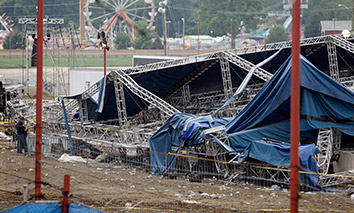 Family members say a 22-year-old college student is the sixth person to die from injuries suffered when a stage collapsed at the Indiana State Fair last weekend.
Along with several people who died immediately, at least four dozen were injured when a strong wind gust toppled the metal scaffolding holding lights and other equipment and sent it plunging into fans awaiting a concert by the country group Sugarland.
The Star Press of Muncie reported 22-year-old Jennifer Haskell died Friday morning at a hospital in Indianapolis. Her uncle, Mike Whited, announced her death in a statement later Friday.
Haskell was entering her senior year at Ball State University, where she was studying sports medicine
State Fair spokesman Andy Klotz told WTHR-TV the fair expresses "its deepest sympathies to her family."
Please enable JavaScript to view this content.