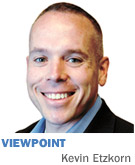 To all the baby boomers out there, thank you for paving the way. You work hard, put in long hours and have high expectations. You've taught us about competitive spirit and dedication. And now you're retiring, which is going to create the perfect storm for us all.
We are about to witness the greatest transfer of business interests this country has ever seen, creating nearly $5 trillion in liquidity by 2015. Why? Because 10,000 baby boomers celebrate their 65th birthdays every day.
More than half of all businesses are owned by baby boomers and, while they may be working past age 65, eventually they will retire. So, brace yourselves. Regardless of whether you are a boomer, a Gen Xer or even a Millennial still trying to figure out your college major, a shake-up is brewing. We're all going to be affected, but the degree of impact will depend on how you react.
This perfect storm is really a lesson in basic economics. We are going to see a virtual tsunami of private small and mid-size businesses flood the market before the end of this decade as boomers hit retirement. As supply increases, the equilibrium price decreases.
In other words, those buying companies will have more fish in the sea from which to choose than ever before. And those who planned to get top dollar for their businesses could see values plunge, much as we've experienced in the housing market.
This is a much different economy from those heady days in the early 2000s when the merger-and-acquisition market was producing strong activity and rich trading multiples for many sellers. Congratulations to business owners who capitalized on that seller's market.
For those who didn't and are still here to tell the tale, you should be congratulated as well, for that was no easy feat. Many current business owners regret their pre-bust, no-exit decision, and have hunkered down to operate their companies into the next exit bubble.
However, given the current economic landscape and the uncertainty created by the on-going political wrangling in Washington, this could be a very long journey, and one that many boomers may not be able to make regardless of how far they push out their retirements.
There is no need to panic (yet). If you're still in business, then you've survived the worst economic downturn since the Great Depression. You're good at what you do. You likely operate in a robust and perhaps even growing industry. You've weathered this and other storms by acknowledging the good and bad about your company, your industry and the economy and by acting accordingly.
If you're a boomer with a business, you need to know the answer to two questions as you plan your exit strategy: What is your company worth, and what kind of cash do you need to realize your retirement dreams? See if the math makes sense. Then focus on maximizing the value of your business before its inevitable sale. Timing, of course, will be everything.
Right now, there is a bright side. Capital reserves are strong. It is estimated that financial buyers alone have accumulated uninvested capital of $500 billion over the last three years. Additionally, over the last two years, banks have accumulated nearly $1.2 trillion of cash on their balance sheets. This is $900 billion more than what was available to lend to buyers at the end of 2008.
There's no question that this wave of boomer retirements will have an impact on our economy locally and globally, and there will be opportunity. The real question is who will be positioned to seize it.•
__________
Etzkorn is managing director at Heron Capital Equity Partners, a private investment partnership which invests in, acquires or recapitalizes small- and middle-market businesses in the Midwest. E-mail him at kevin@heroncap.com.
Please enable JavaScript to view this content.