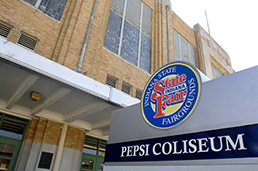 The Coliseum took center stage in a 1963 state fair tragedy. (IBJ Photo File)
When minutes before a gust of wind caused an overhead stage rigging to come down on people waiting for the Sugarland concert at the state fair, the audience was told that in case the weather became violent, one of the places to go for protection was the state fair Coliseum.
That suggestion jarred my memory of what happened at that same Coliseum some 48 years ago. On the last night of October 1963, a propane tank exploded during the final presentation of an ice show there. Seventy-four members of the audience were killed.
I had just finished anchoring the 11 p.m. news at Channel 6 that night when our police radio was telling us there was an emergency at the state fairgrounds. Our phones were ringing with people alerting us to trouble. Bill Crawford was our weather chief then, and he had started to do his report just after the newscast. I interrupted him and stated that we understood something had happened at the Coliseum and we would be back soon with the latest.
One of the station's broadcast personalities, Jim Gerard, and I rushed out on that rainy night and were told upon arrival we would have to wait with other media personnel before we could enter the entertainment area. Suddenly my family physician came out and I asked him what it was like in there. He said, "It's bad, really bad."
Minutes later we were allowed to enter. Bodies were laid out on the iced floor and more were being added. I was shocked when I first went in but I shifted to reporter mode, gathering information and getting it back to the studio via telephone. It was difficult for me to be impersonal about it because as someone who had grown up in Indianapolis, many of my friends were looking for loved ones.
All of the Indianapolis TV stations stayed on the air all night. It was a long evening for reporters from all the media.
All these years later it is still comforting to know that the Coliseum could have helped the state fair entertainment audience, but many of the people who were injured decided to take a chance with weather they never expected.
____________
Howard Caldwell
Please enable JavaScript to view this content.