There's something movie-set-like about Fountain Square after 11 p.m. Like no other place in the city, it has a noir-ish beauty that feels organic rather than planned.
I've got one more reason to see that time of day in that part of town now that Revolucion (1132 Prospect St. 423-9490) has taken over a sizable bar space.
Open Fridays and Saturdays until 1 a.m., Revolucion has a simple menu: Pinchos (appetizers), Tacos (in pairs) and Burgers. Order them at the bar. Grab a beer while you're at it. And take a seat.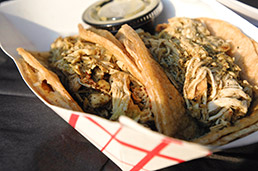 Revolucion, serving tacos, tacos and more tacos, recently took over a Fountain Square storefront. (IBJ Photo/ Perry Reichanadter)
I would have guessed the ingredients were fresh in the hearty green scoop of guacamole that comes with chips ($5.95) even if I hadn't witnessed local growers selling their produce to management. Less successful were the Patatas Bravas ($4.95)—fried potato chunks in a spicy pepper sauce that tasted like they were concocted with fridge findings after a long fraternity party. They were filling and compulsively edible but nothing to boast about.
Better were Revolucion's raison d'être: the tacos, served in baskets on doubled tortillas. With prices fixed at $5.95 per pair (with a dollar upcharge for seafood), they all satisfied thanks to fresh ingredients and appropriate variables. The Fish offered grilled tilapia with a nice shredded cabbage/fruit salsa accent. The Shrimp was packed with medium-sized crustaceans, garlic, lime and cilantro. The Chicken features slow-cooked, all white meat fowl just moist enough to go down easy.
This being a late-night, post-show stop, we didn't head into the back for socializing at the Tiki Bar (A Tiki bar in a Mexican food joint? Viva la melting pot!). Instead, we strolled out to the fountain, half expecting Philip Marlowe to wander by.
The only real mystery here, though, is why Revolucion isn't yet open for lunch.•
—Lou Harry
__________
Fourth in a month-long series of reviews of new arts district eateries.
Please enable JavaScript to view this content.