"It's a challenge writing about IndyFringe, the festival that adds a shot of late-summer life to Mass Ave."
That's how I started my Sept. 1, 2008, column, in which I wrestled with the best way for a lone commentator for a weekly newspaper to handle a non-juried 10-day event comprised of dozens of undifferentiated amateur and professional productions.
This year, I made the challenging task of covering Indy Fringe even more complicated.
(Pardon me for a moment while I switch hats.)
See, I'm also a playwright. And about three months ago, a local director/producer inquired about staging one of my plays at this year's Indy Fringe.
(Journalism hat now back in place.)
I questioned, briefly, whether an arts journalist should have a show in a local festival at all. Isn't there some inherent conflict there?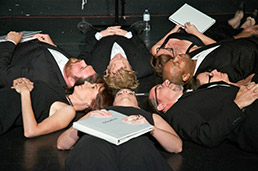 There aren't too many places, besides Indy Fringe, where dadaist sound poems, above, share stages with standup comics and serious dramas. (Photo/Daniel Axler)
But I justified (some might say, rationalized) my acceptance by noting that 1.) Indy Fringe is non-juried, so it's not like I was applying for some thing that my role as an arts writer might influence. 2.) Some of the most
noted theater critics of the last century or so, including Robert Brustein, George Bernard Shaw, and my personal idol Harold Clurman, have written or directed plays while they were active as journalists; 3.) I've had plays staged in Indy and elsewhere without compromising my journalistic integrity.
Once the decision was made, though, I wasn't sure if I should cover Fringe differently this year. In search of answers, I checked in with a network of arts-covering colleagues across the country.
Ben Waterhouse of Oregon's Willamette Week said "I don't think that you need to change your coverage at all—so long as you don't write about your show. Cover the fest without your show, and lean on your colleagues at other outlets to cover yours."
Kansas City-based Grace Suh disagreed: "I think you're missing out on a rare opportunity. You have unrivaled access and unique insight. Ask yourself the tough questions and answer them with a frankness you'd give to no one else." Ben Fulton of the Salt Lake Tribune agreed. "Full disclosure now means no apologies later," wrote Fulton.
It was tempting to go that route. But I was and am hypersensitive to giving the impression of using this column to promote my outside writing. Self-consciously interviewing myself about my play while it is still running might be interesting. But it could also seem self-serving and opportunistic.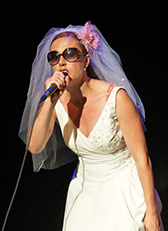 Fringe show "Oneymoon (A Honeymoon for One)" concerns a woman who marries herself. (Photo/Daniel Axler)
Ultimately, I took the Waterhouse approach (sans leaning on others to cover my play), at least in my initial preview/review coverage in my blog and e-blast. As for this wrap-up piece, try as I might to write it without bringing in my experience on the other side, I couldn't. So rather than scrap it altogether, which wouldn't really be fair to the festival, I wrote this post-mortem as I try to write all my columns: Truthfully.
For me, the biggest challenge in wearing the hats of both playwright and critic wasn't concern over objectivity. Rather, it was not being able to fully embrace the camaraderie of the festival, where other participants dined, drank and log rolled for each other seemingly regardless of the perceived quality of the work. It's tough to have those casual conversations when you've written publicly about your disappointment in someone's underdeveloped work. Or, worse, if you haven't gotten around to seeing their work at all. In such circumstances it's tough to gauge if a performer or producer (usually these are one and the same) is chumming up to you or praising your show honestly, or if he or she is just trying to get in good in an effort to increase the chances of press coverage.
Not that such a tactic would work.
It's a shame, really, because the communal spirit of the players is palpable up and down Mass Ave. during the festival. Yes, they (we) are kind of in competition with each other. A ticket sold to one show may be a ticket not sold to your simultaneous offering. But you wouldn't know that from the good will out on the street and the way companies encourage audiences to see the shows of their pals, old and new. And besides, the fest is attracting more patrons every year—records are being broken as I write this—and so rising tide, etc.
As I write this, the festival is halfway through and that crossroads is crowded with relief and anticipation. As a playwright, making it through the first weekend meant seeing the show up and working in front of paid audiences. It meant monitoring Twitter and Facebook to read what people are saying about the show (Yes, we care—not out of ego but to see if our work communicated and engaged). It meant talking it up to potential Fringers and concocting other attention getters. It meant continuing to tweak the show with the director and cast. It meant nervously awaiting the comments in the two media reviews that matter at the Fringe box office—those in The Indianapolis Star and Nuvo Newsweekly—hoping not only for insight but also for box-office boost. And it meant looking ahead to the final weekend, when I anticipate emerging from this thrilling experience with a biggie-sized version of my from-the-beginning appreciation for Indy Fringe—what it is trying to do, what it achieves and what it means to Indianapolis.
(Switching hats again)
By the way, my play was "Beer Can Raft." Sorry you missed it. And, don't worry: I won't hold that against you.
Next week: Look for the IBJ A&E Season Preview, with dozens of high-expectation-potential highlights of the 2011-12 arts season.•
__________
This column appears weekly. Send information on upcoming arts and entertainment events to lharry@ibj.com.
Please enable JavaScript to view this content.