When Chris Bowers and Tony Deardorff bought Morty's Comedy Joint in February 2010, the college classmates had their work cut out for them.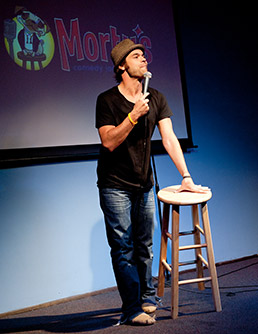 Mike Malone works the crowd at open-mic night at Morty's. The comedy club has programs to help develop talent. (IBJ Photo/ Eric Learned)
The north-side comedy club had been closed for a month, creating a publicity challenge that they're still battling, the business was in debt and a four-show weekend drew a paltry 250 paying customers.
These days, the men say the club at 3625 E. 96th St. is building its audience, booking top talent and turning a profit.
"We believe our product is good enough, that if someone comes in the door, they'll become a repeat customer," Hofstetter said.
They credit a decision to invest in the business—and the determination to ask for help.
Hofstetter
Three months after reopening Morty's, Deardorff and Bowers brought in comedians Marshall Chiles and Steve Hofstetter, whose company Paragon operates two comedy clubs in Atlanta, to handle booking and marketing.
"Last June, we were still not doing well,'" Bowers recalled. So, acting on the advice of one of the comics, the partners called in Hofstetter for assistance. "Two weeks later, he packed the place with an e-mail. We'd been trying to do that for months."
Bowers
Deardorff and Bowers, who met when they attended Ball State University together in the mid-1990s, run day-to-day operations. Deardorff handles the food service, using experience gained from operating the Jillian's restaurant in downtown Indianapolis from 1999-2009. Bowers, a stand-up comedian, runs the club's training program for future comics.
In the past year, the ownership group has redecorated the club's interior, put in a new sound and recording system, bought new kitchen equipment, changed the menu and booked bigger-name comics to work the 3,000-square foot, 250-seat theater.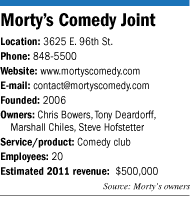 Framed posters from comics who have appeared in the club—including "Last Comic Standing" winner Alonzo Bodden, former "Fear Factor" host Joe Rogan and legendary comic Heywood Banks—line the theater's sidewalls.
Average weekend attendance has nearly tripled to 650, Hofstetter said.
"Increasing a club's attendance is devilishly hard," said Brian McKim, co-editor of Shecky Magazine, an online publication that covers the stand-up industry. "Elsewise, every club would be doing it and we'd have a healthy business across the board. It takes energy, money, imagination and luck."
Focusing on the experience
Hofstetter is a big believer in the power of the Internet, steering Morty's online for most of its marketing. The club has more than 6,000 Facebook fans and 5,600 followers on Twitter, and Hofstetter said its e-mail distribution list includes 25,000. The club also recently sold 8,000 tickets in a Groupon promotion.
"What's unique to comedy is what the Web has done," Hofstetter said. "Almost every viral video that exists is funny. Things are spread around because they're funny. … Taking hold of that is both the biggest challenge in the industry and our biggest advantage. We've got something naturally that people can hold onto. Who doesn't want to laugh?"
Morty's owners also have narrowed their marketing focus to target potential customers who live a short drive from the club, rather than focusing on the entire metro area.
The partners understand they're not just competing with other Indianapolis comedy clubs—in fact, Hofstetter noted their presence as a positive, providing more exposure to comedy in the market—but also with movie theaters, restaurants and other entertainment options.
Because of that, Hofstetter said having the "right employees is important," and focused on having a customer-oriented staff.
"Everyone who comes to the club, from the moment they step out of their car, they have to have a wonderful night," he said. "We want to make sure the way the club looks, to how clean it is, to how friendly the box office people are, to how good their food tastes, and the show—it's got to be a wonderful experience."
Having working comics in the ownership group is a bonus when it comes to scheduling talent.
"That's the nice thing about those guys: They're out in the comedy world," said Dave Wilson, a comedian and local radio host who owned One-Liners comedy club in Greenwood. "They can see the new talent and bring it to stage quicker. … You've got to have acts that appeal to your audience. They can go out to different cities and they're exposed to the acts."
Indianapolis has long been exposed to standup comedy through Q-95's "Bob and Tom Show," which is syndicated in more than 150 markets. The show's presence in Indianapolis gives local clubs an advantage booking comics who are already in town to be guests on the radio show.
Bowers often drives comics to WFBQ-FM 94.7's studios.
"It's been great for the scene in the city," he said. "We get better talent because they can be on 'Bob and Tom.'"
When Wilson opened One-Liners in 1992, it was one of seven local comedy clubs—the height of a standup comedy boom fueled by growth of television programs such as "Evening at the Improv" and development of Comedy Central.
Shecky's McKim said that bubble burst around 1993, but noted that Indianapolis' three operating clubs is an impressive number for a relatively small market.
"Without a doubt, Bob and Tom's presence in this market has made Indianapolis a more comedy-aware city, probably the most comedy-aware city in the world," said Wilson, a former "Bob and Tom" regular who has hosted drive-time programs on WIBC-FM 93.1 and now on WYGB-FM 100.3 in Columbus, Ind.
"We are a comedy area because Bob and Tom have comics, we had comics on my show on WIBC and now on [WYGB]. That keeps the awareness up," he said. "It's like a constant commercial."
The next generation
Morty's owners have worked hard to develop the local comedy scene, in part through a writing workshop Bowers hosts before the club's open mic night on Wednesdays. The club also hosts a comedy class on Sunday afternoons and has a residency program, which allows emcees to host 15 shows over a three-week period.
And the club supports shows and open mic nights at bars throughout the city as a way to develop comics and provide them stage time.
Those efforts are paying off. For example Todd McComas, an Indiana State Police officer who appears regularly at Morty's, has worked his way up to featured comic—the warm-up act to the headliner—in just one year.
"The goal ultimately is to build a bunch of emcees that are great, and two years from now we have 10 local features that we can work twice a year," Bowers said. "Eventually, two or three of them break out and become headliners. If someone becomes huge, they credit us for that and they come back and help us out when they can. Our goal is to help somebody."
And if they can do that while making money, all the better.
Bowers and Deardorff's initial investment was $50,000, and they said the club grossed $413,000 from March 2010 through the end of the year. This year, the partners expect revenue to exceed $500,000, and they plan to keep putting profits back into the business.
"I believe that you invest in a down market," Hofstetter said. "If it works, you're sitting pretty when things turn around. We started bringing in bigger comics, and with Marshall and I being comics, that helped us. We could say 'Hey, come do us a favor.' Now that the club is bigger, we can pay what they're worth. We shored up the product. We're rewarding quality."
Hofstetter said most acts bring in $1,000 to $2,000 per four-show weekend.
The partners took a chance last year bringing in Heywood Banks, a "Bob and Tom" veteran who commands a higher-than-normal appearance fee. At that point, they were concerned about making it financially. Today, they no longer worry about bringing in bigger-name comics.
"It was something we needed to do to get recognition," Deardorff said. "When Heywood comes to town, you knew … whatever we've done to promote him, he's going to do just as much to promote himself. It was a risk we needed to take. Now, it's not a risk. It's getting close to being a luxury to bring in people who are bigger names."•
Please enable JavaScript to view this content.