Most of us don't pay a thought to the Clean Air Act when we reach for a cold drink.

But Jim Tieken, a former refrigeration repairman, built a thriving business around the regulation of ozone-depleting gases that are used in his industry. When the U.S. Environmental Protection Agency in the mid-1990s banned the chemicals that are widely known by the DuPont trade name Freon, Tieken invented an alternative.

Hot Shot, made by Tieken's company ICOR International in Indianapolis, is the top-selling refrigerant in the repair trade. If a refrigerator in a grocery store or restaurant springs a leak, the service contractor usually replaces the fluid with Hot Shot because it was the first post-Freon chemical on the market that didn't require the extra step of changing compressor oil.

"They have other products, but none of them sell quite like Hot Shot," said Gary Warner, a refrigeration sales specialist at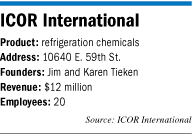 Duncan Supply in Indianapolis.

But Hot Shot faces its own regulatory burdens, and ICOR, a company with about 20 employees and $12 million in annual revenue, might be unable to continue making it in 2012, according to a letter Tieken sent to the EPA in May.

Hot Shot is made of hydrochlorofluorocarbons, or HCFCs, which at one time were considered less harmful than the chemicals in Freon. As it turns out, HCFCs do their own ozone damage, and their supply has been limited since 2003 by the EPA's cap-and trade system.

ICOR complains that system favors big chemical companies, which receive most of the production and importation rights.

The idea behind cap-and-trade systems is that the EPA sets limits on the total number of pollutants in an industry. Then the agency ratchets down that number until the pollutants are no longer in use.

Cuevas
Companies that use fewer pollutants benefit by selling their rights to those that continue to use them. The problem with cap-and-trade is that the EPA creates winners and losers with the way it allocates rights in the first place, said Kenneth Green, resident scholar at the conservative American Enterprise Institute in Washington, D.C.

That's exactly ICOR's point. The company isn't lobbying the EPA to stop limiting HCFCs, but to grant it a fair share. Since the cap-and-trade system for HCFCs came into play eight years ago, the company has paid $7 million to large chemical producers, just for the rights to the ingredients, ICOR Chief Operating Officer Milton Cuevas said.

"We call it cap-and-hoard," Cuevas said.

In a May letter to the EPA, Tieken said ICOR is "at the breaking point." Two of three chemical makers will not sell necessary ingredients, he said, and the remaining firm would sell only one ingredient.
Tieken
The supply situation has eased since May because one chemical maker needed the sales, Cuevas said. But it's been an ongoing battle with the industry establishment, he said. "They'd really rather not have us be in the business."

ICOR ramped up its lobbying as the EPA was preparing to write a new set of cap-and-trade rules. (Public comment on the rules closes Sept. 6.) The company has spent about $250,000 employing Baker & Daniels lobbyists in Washington, D.C., over the past couple of years, Cuevas said, and he spends two or three days a month on Capitol Hill himself.

The company also persuaded Sens. Dick Lugar and Dan Coats to sign a letter on its behalf.

Cuevas said the current lobbying effort is important to the company's future, and not only because of Hot Shot. With HCFCs nearly phased out, ICOR has come up with a line of alternatives, which could fall into a similar cap-and-trade scheme.

"We're at a point in our company's history where we're saying, 'You know what? We're not going to let this happen again. We're going to fight it,'" Cuevas said.

EPA spokeswoman Cathy Milbourn said EPA staffers were in the process of preparing a response to the Indiana senators' letter and were not available to comment.

The senators took an interest in the company's cause because of that next wave of regulation, which applies to a class of chemicals called HFCs.

Two of ICOR's other products, One Shot and NU-22, are HFCs, and Cuevas expects they will account for most of the company's revenue in another two or three years. One Shot is for freezers and reach-in coolers, and NU-22 is for home air-conditioning and bakery equipment.

Lugar and Coats contend the EPA doesn't have the authority to regulate HFCs because the chemicals are greenhouse gases, not ozone-depleting gases. (Greenhouse gases warm the atmosphere, while ozone-depleting gases eat away the atmosphere's upper ozone layer.)

The EPA's "overreach" is a common source of complaints, Lugar spokesman Andy Fisher said.

"It has been a major concern of businesspeople during public forums in Indiana this month," he said. "Small-business owners and farmers bring it up nearly every meeting."

Green at the American Enterprise Institute doesn't think a small business has much chance of getting the EPA's attention.

"There's so many people with much bigger guns firing at EPA," he said. "They're hunkered down. They're pleading [that] they're so busy."•