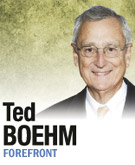 More than a third of the states have recently taken steps to reform their criminal sentencing laws. This movement has been driven by the cost of building and maintaining prisons.
A long-standing problem with less political clout is the dramatic anomalies in the criminal law that have evolved by patchwork tinkering with our criminal statutes over the past 40 years. The last general overhaul of our criminal laws was in the 1970s. Since then, we have generally imposed more and more severe penalties for a variety of crimes, including many nonviolent ones. The standard complaint is that prison populations in the United States continue to grow even though we already incarcerate a much higher percentage of the general population than any other developed country.
In Indiana, a commission studying this problem came to the same general conclusions reached in other states across the country.
One major concern is based on projections of prison needs if current laws are maintained. It costs hundreds of millions to construct a state prison, and tens of millions annually to operate one. The increase in convictions for D felonies—the lowest level of felony in Indiana—has grown significantly more than the prison population as a whole. This has led to charges that we are unnecessarily and counterproductively sending petty thieves and minor drug violators to prison.
The human cost of sending nonviolent offenders to prison is also a concern. Advocates urge that it is far more effective to operate less-costly supervision programs intended to convert the offender from a costly inmate into a productive taxpayer.
In Indiana, however, the last General Assembly entertained and ultimately rejected the commission's proposal to reform Indiana's criminal sentencing laws. The proposal to address these issues was endorsed by Gov. Mitch Daniels and Chief Justice Randall Shepard and generally applauded by many observers.
Despite what seemed to be overwhelming support for this reform as it was initially introduced, the legislative debate on these issues bogged down in the last session. The problem was in part due to lack of reliable data on such basic points as whether minor offenders really do find themselves in state prisons, and whether the growth in prison population was really the threat that was predicted.
On a less-quantitative point, prosecutors weighed in complaining that they can obtain plea bargains to lesser crimes by threatening a state prison term, and this is a necessary means of preventing the criminal courts from being overwhelmed with trials.
Serious students of these problems have legitimate issues with some of the numbers that have been advanced, but it certainly seems the variations are not significant enough to question the basic conclusion that state prison policy needs an overhaul, and the criminal laws are a good place to start.
We have laws imposing 50-year sentences for some drug offenses that occur within 1,000 feet of a school or park or youth facility. In a metropolitan area, it's hard to find a place that isn't within that distance from some school or park, particularly when prosecutors aggressively seek out some youth program in the basement of a church to meet the requirement.
Equally arbitrary are some get-tough-on-crime laws that prevent a court from suspending a sentence for some drug-related crimes, even if the judge is convinced the offender is on the right track to recovery.
It is easy to understand how such laws get enacted. Enhanced sentences are routinely proposed, and support for reduced sentences or alternative treatments is not easy to generate. But we do have the benefit of thoughtful study, if not completely reliable data, to support some basic reform that will save the state money and produce a fairer and more productive criminal justice system.
Ultimately, the failure of the commission proposal in 2010 was another example of a situation where the call for a perfect plan produced the defeat of a good one. We should not repeat the mistake.•
__________
Boehm is a retired Indiana Supreme Court justice who previously held senior corporate legal positions and helped launch amateur sports initiatives in Indianapolis. Send comments on this column to ibjedit@ibj.com.

Please enable JavaScript to view this content.