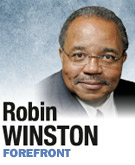 Indiana has not had slavery since 1820. In 1820, an Indiana Supreme Court ruling in Polly v. Lasselle freed all the remaining slaves in the state. In fact, Levi Coffman, a resident of Fountain City, was regarded as the "conductor" of the Underground Railroad, and former Gov. Oliver Morton was one of President Lincoln's greatest and most reliable allies throughout the Civil War.
So why, some 191 years later, do we have leaders from the Indianapolis Cultural Trail commissioning an artist to depict the image of a slave as our community's hallmark to African-Americans? If you have not followed the story, Cultural Trail officials initially proposed putting a replica of the slave seen at the Soldiers and Sailors Monument on the corner of Washington and Delaware streets, across from the Marion County Jail.
In all fairness, the Cultural Trail officials did hold public meetings to solicit opinion, but those hearings were held after the artist was commissioned for his work, after funds were allocated, and after a location was designated. Knowing that, where's the real opportunity for input?
The artist involved in the project, Fred Wilson, is himself African-American. He states that the statue is designed to revisit the journey of African-Americans from slavery to the present.
Mr. Wilson, we don't need a statue of a slave to remind us of our history. The Irish do not need a statue of an Irish peasant in downtown Boston to depict their rise to prominence. Instead, they remember former President John F. Kennedy and former Speaker of the House Tip O'Neill, both of whom are more modern historical figures.
I am not a demagogue and refuse to let anyone characterize me as such. I am, however, a resident of this community who cares greatly about the depiction of African-American history. After all of our contributions to Indianapolis in the arts, business, government, the faith-based community, health care, education and assorted other fields, is the depiction of a slave the best we can offer this and future generations?
The Cultural Trail will be part of our legacy for generations. It is funded in part with a $20.5 million grant from the Obama administration via the U.S. Department of Transportation and supported by congressman Andre Carson. Those federal funds, derived from taxes paid by all of us, demonstrate that the trail belongs to all of us.
Knowing that all of us shared the cost of the trail and that the trail will make a discernable difference in our community, why not provide an opportunity to leave a lasting legacy of an African-American who helped put Indianapolis on the map?
I propose that we replace the statue of a slave with a statue of Madam C.J. Walker. Walker, who was America's first female millionaire, helped embolden downtown Indianapolis before there were cultural arts districts. She built the Madame Walker Theatre Center as a place where people of all races could be entertained and socialize. She built her business as a testimonial to the entrepreneurial spirit that drives our nation today.
It seems it is almost impossible to have a "cultural trail" without recognizing the contributions of Madam C.J. Walker. Her statue could be placed near the present Walker Theatre Center.
Some in support of the Wilson statue have stated that we need "discussions." We can have discussions about the institution of slavery at any time and any place. If those who want to have those discussions are indeed genuine, join us for church service on a Sunday, attend Indiana Black Expo, participate in the NAACP or the ACLU, volunteer in a public or private school, or just talk with a co-worker or neighbor. By talking with people of all races, we can best have those "discussions."
Then imagine how we could enhance those "discussions" at the base of a statue of a true Indiana and American icon—Madam C.J. Walker.•
__________
Winston is a lobbyist and former chairman of the Indiana Democratic Party. Send comments on this column to ibjedit@ibj.com.

Please enable JavaScript to view this content.