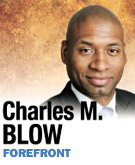 Sometimes I push back on my heels, look at this country and wonder aloud: "What on earth are we doing?"
We have a growing crisis among the nation's children, yet our policies ignore that reality at best and exacerbate it at worst.
According to an August report by the Guttmacher Institute, the unintended pregnancy rate has jumped 50 percent since 1994, yet a July report from the institute points out that politicians are setting records passing laws to restrict abortion. Add to this the assault by conservatives on Planned Parenthood, and what are we saying?
This is what we're saying: Actions have consequences. If you didn't want a child, you shouldn't have had sex. You must be punished by becoming a parent even if you know that you are not willing or able to be one.
This is insane.
Even if you follow a primitive religious concept of punishment for sex, as many on the right seem to do, you must at some point acknowledge that it is the child, not the parent, who will be punished most by our current policies that increasingly advocate for "unborn children" but fall silent for those outside the womb.
This is not how a rational society operates.
Aside from the raft of negative outcomes associated with unintended pregnancies, there are a host of other indicators that suggest a perilous world for the nation's children.
A recent report from the Annie E. Casey Foundation found that "the official child poverty rate, which is a conservative measure of economic hardship, increased 18 percent between 2000 and 2009."
According to the U.S. Department of Agriculture, the number of children facing food insecurity in 2009 soared to nearly one in four. And ABC News pointed out that a breathtaking 49 percent of all children born in this country are born to families who receive food supplements from the federal Women, Infants and Children assistance program.
As the World Bank points out, "undernutrition" in young children has been linked to delayed growth and motor development, lower IQ's, behavioral problems and decreased attention, deficient learning and lower educational achievement.
We simply can't keep turning to pills and prisons to solve issues of poverty and poor parenting. This is unhealthy, unsustainable and unwise.
We have to do a better, more focused job of teaching sex education and providing contraceptive options. We have to remove the stigma and judgment around sex.
We also have to preserve women's birth options should they become pregnant, including the option not to give birth. And, finally, for all the children who are born, we must make a valiant effort to give each and every one of them a fighting chance, which includes food and medicine when their parents can't provide it. We must do this not as a boon or crutch to the parent, but as a selfish investment in the future of this great society.
Now is when we need government to step up and be smart.
This is exactly the wrong time to do what the Republicans would have us do. In their 2012 budget, they propose cutting nutrition programs as part of austerity measures so that we don't leave our children saddled with debt. Meanwhile, they completely ignore the fact that those cuts could leave even more children saddled with physical or developmental problems.
They want to hold the line on tax breaks for the wealthy, not paying attention to the fact that our growing income inequality, which could be reversed, continues to foster developmental inequality, which is almost impossible to reverse.
We have to start this conversation from a different point. We must ask: "What kind of society do we want to build, and what kinds of workers, soldiers and citizens should populate that society?" If we want that society to be prosperous and safe and filled with healthy, well-educated and well-adjusted people, then the policy directions become clear.
They are almost the exact opposite of what we are doing.•
__________
Blow is a New York Times columnist. Send comments to ibjedit@ibj.com.
Please enable JavaScript to view this content.