Yearbook-and-class-ring maker Herff Jones honors its top salesmen by hanging their portraits in the halls of its Indianapolis headquarters.
Frame after frame holds a man wearing a dark suit and, of course, a large ring. The images seem to fit Herff Jones' corporate culture. CEO Joe Slaughter says people joke about being so conservative they wear a belt plus suspenders and drive one mile per hour below the speed limit.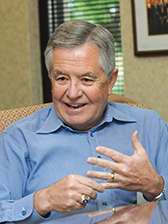 Slaughter
Yet Herff Jones just tied its future to a world of girls performing aerial stunts. The company on Aug. 1 bought Memphis-based Varsity Brands, which is the top supplier of cheerleader uniforms, as well as the force behind cheerleading's evolution into a stand-alone sport.
Varsity will bring Herff about $250 million in annual revenue through its uniform sales, training camps and competitions. That's a 51-percent increase over Herff's 2010 revenue of $492 million.
Herff Jones has been built on acquisitions, but the Varsity deal is the largest in its 90-year history, Slaughter said.
Varsity will continue to operate as a separate division with about 1,000 employees and be led by founder and CEO Jeff Webb. The company also will keep its sales force, which Slaughter thinks will open doors for Herff reps.
"They are dealing with the spirit leaders on campus," Slaughter said of Varsity. "Our products sell better where kids are excited about where they go to school."
Herff, which began in 1920 making affinity pins, now has multiple offerings in what's referred to as the recognition industry.
Through smaller acquisitions, the company has picked up maps and globes, caps and gowns, and diploma frames. But its leading revenue source in recent years has been the yearbook division, which faces competition from cheaper e-publishers.
Herff bought Varsity for an undisclosed price from the Los Angeles private-equity firm Leonard Green and Partners. The deal provides a measure of diversification at a time existing product lines are facing challenges.
Skyrocketing gold prices pushed class rings toward high-grade stainless steel. Dramatic cuts in school budgets, especially in California, crimped the education division that sells maps and globes, Slaughter said.
Total sales have declined over the past three years, Slaughter said. (He declined to disclose exact figures.) And two years ago, the company saw its appraised value drop for the first time since becoming fully owned by employees in 1995, he said.
Including Varsity, Herff has 4,000 employees, 500 of whom are at the Indianapolis headquarters and fine papers plant on West 62nd Street. They are part of an employee stock-ownership plan.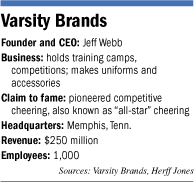 Shares in the ESOP were valued last October at $119.75 apiece—a sixfold increase since its inception, Slaughter noted. The total value of the company is around $1 billion, filings with the U.S. Labor Department show.
Until Varsity, the company carried no debt from acquisitions. There's another deal on the horizon, he said.
"All in all, we feel as though we have weathered the storm very well," Slaughter said.
Beyond the yearbook
Herff's competitors face similar challenges, and they, too, have been diversifying through acqusitions.
Armonk, N.Y.-based Visant, parent of industry leader Jostens, has bought letter-jacket makers and a company that makes fine jewelry for sports teams and fans. American Achievement Corp. in Austin, Texas, also branched into fine jewelry.
Yearbook sales won't improve anytime soon, predicted Agata Kaczanowska, a publishing industry analyst at IBISWorld Research in Los Angeles. A swelling student population from 2006 through this year masked the effect of schools' switching to online-only yearbooks, she said.
"They were selling to a higher ratio," she said.
The average annual growth rate of students in kindergarten through college will drop from 1.1 percent in the past five years to a half percent in the next five years, IBISWorld predicts.
Slaughter, 63, acknowledged the impact of online-only publishers, but he said Herff won't exit the business. Technology has brought dramatic changes to the way yearbooks are produced, but in the end, students still want a printed product.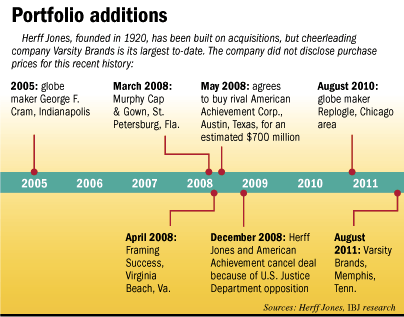 "Our research indicates there is something very, very special about a book that someone else creates that has your picture in it," he said.
Herff also will keep its cadre of independent sales reps, who guide publications classes through the yearbook-making process. Teachers have full plates, Slaughter said, and many of them still want that assistance.
Slaughter, a 38-year veteran of Herff Jones, led an effort in 2008 to buy American Achievement from its private-equity owners. The deal, estimated to be worth $600 million to $700 million, would have created a powerhouse to rival Jostens.
But Herff executives had to find a new strategy after unexpected U.S. Justice Department opposition killed the merger.
"When that was ruled out of bounds," Slaughter said of AAC, "We broadened the fairway."
Herff already was adding to its offerings and building up its curriculum-aid division, Nystrom, around maps and globes. Slaughter sees a lot of upside in education. A year ago, the division rolled out software called Stratalogica, which uses Google Earth and allows classes to explore multi-layer, illustrated maps from a whiteboard.
Herff could venture into a number of businesses that revolve around sports or education, Slaughter said. That could include mascots, student travel or more textbooks, he said. "There's a lot of places we could still go."
Export potential
The place Herff Jones most yearns to go is overseas. Varsity provides that opportunity.
While yearbooks and class rings are uniquely American traditions, cheerleading is taking off in places like South America and Asia.
Varsity founder Jeff Webb is credited with turning the tide toward cheering as a sport in its own right, partly by persuading ESPN to televise a competition. He also helped start the not-for-profit organizations U.S. All-Star Federation and the International Cheer Union.
Cheer competitions have evolved into a format called "all-star," which is set to music and heavy on stunts.
It's this form of cheering that attracts a growing number of international teams to the annual world competition in Orlando, Fla., said Marisa Walker, editor of the American Cheerleader magazine group.
"I think they love the flash of all-star cheer," Walker said. "It's not traditional cheering."
Those overseas teams now are inviting American coaches and choreographers to show them the ropes, Walker said.
The teams also are buying more sophisticated gear. Varsity is in its second year of international shoe sales, said Sheila Noone, vice president of public relations. (The shoes are designed for different cheerleading situations, which can include standing outside on a sideline for hours, or tumbling on a spring floor.)
Webb started the business with training camps, which now reach 350,000 U.S. cheerleaders a year. Varsity also holds about 400 competitions a year through 15 brands, Noone said. Both of those activities are profit centers, as are apparel sales, she said.
"We feel like, if you've been to one of our camps, you're going to be a customer for life," Noone said.•
Please enable JavaScript to view this content.