Armed with cash and needing new sources of revenue, Curtiss Quirin is doing what any manufacturing executive might.
He's looking to buy a business. As chief operating officer of Crossroads Industrial Services, a not-for-profit contract manufacturer, Quirin hunts with a certain sense of urgency. His enterprise provides jobs for people with disabilities, and it generates a surplus that feeds the revenue-starved parent organization, Easter Seals Crossroads.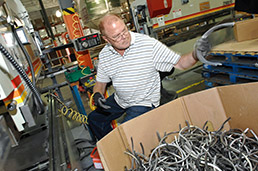 Team leader Dean Anderson puts the finishing touches on a metal rim for a construction helmet at Crossroads Industrial Services, a not-for-profit contract manufacturer. (IBJ Photo/ Perry Reichanadter)
Easter Seals provides a variety of therapeutic and support services to people with disabilities in the Indianapolis area. The organization anticipates its fourth straight operating loss in the fiscal year that began July 1—$1.8 million on a budget of $14.4 million.
The losses since 2009 are partly the result of reductions in federal and state governments' reimbursement rates. While Easter Seals is trying to make up for that through fundraising, CEO James Vento doesn't expect to see a spike in either revenue stream anytime soon.
"That's why the organization is really counting on us here," Quirin said during a recent tour of the Crossroads Industrial facility on East 33rd Street.
Crossroads Industrial Services bills itself as a $5.2-million-in-revenue business that happens to employ disabled people. Quirin, the former director of manufacturing at Stanley Works, sees that Crossroads lives up to that reputation.
Quirin starts each day meeting with his supervisors in front of a whiteboard where they go over daily budget and inventory targets. He even tracks the number of Band-Aids doled out to workers. Paying attention to minor scrapes helps prevent major injuries and the productivity losses that go along with them, Quirin said.
Lean manufacturing practices have freed up cash that Quirin would like to deploy in an acquisition. His goal is to find a small business or an unwanted product line, fold it into the present operation, and make it more profitable.
It's a sensible strategy and one that's more likely to succeed with a seasoned executive scrutinizing the revenue potential, said Mike Alerding, a business consultant and senior partner at Alerding & Co., an Indianapolis accounting firm. People with Quirin's background "understand the driving force is volume, the ability to take a product to market quicker," he said.
Quirin has looked at half a dozen potential acquisitions, but he does have one particular requirement. A new business line has to tie into Crossroads' primary mission by adding five to 10 jobs to operation.
Crossroads currently employs more than 70 disabled people in a variety of jobs, from assembling small components for Von Duprin locks to packaging marketing material for Herff Jones and NAPA auto parts.
Quirin
Employees are referred from Easter Seals, and the supervisors find jobs that suit their skills. Despite the variety of physical disabilities, the work force shifts quickly to accommodate fluctuations in volume and new jobs. On a recent tour, Quirin found an entire section of the assembly floor had been rearranged since the morning.
With the unemployment rate among disabled people around 40 percent, Crossroads employees are also extremely dedicated.
"This is more than a job for them," Quirin said.
Other not-for-profits, such as Goodwill Industries and Noble of Indiana, also have business-service divisions that compete for government and private-industry contracts.
The not-for-profits tend to stay within their own niches, so the main source of competition these days is manufacturers themselves, Quirin said. Since the recession, they have been doing as much work as possible in-house to keep their own people employed, he said.
Financial challenges
Unfortunately for Crossroads, the economy continues to sputter at the same time a key contract is on the wane.
Crossroads has assembled vehicle-identification panels for the U.S. Army since 1998. At peak volume in 2005, the industrial division provided 65 percent of Easter Seals' revenue, Chief Financial Officer Susan Saunders said.
That contract is still in effect, but the Army is no longer placing Humvees in combat zones, which reduces demand for the sand-colored metal panels. Fortunately, the Easter Seals' board of directors put excess revenue in a reserve fund, which was worth $18.5 million on June 30.
That fund covered a $1 million operating shortfall in the last fiscal year, when Easter Seals brought in $16.6 million. It has covered budget gaps each year since 2009, and it could be tapped again this year, Saunders said.
"The board putting the money aside was a very good thing," she said.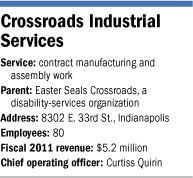 Easter Seals provides an array of services from a five-story building near East 52nd Street and Keystone Avenue. The organization employs 145 people, most of them therapists who work out of the headquarters or travel to clients' homes.
Adult day care, deaf community services, adaptive technology, employment services, autism therapy and speech therapy are some of the main lines of business.
Many of the 5,000 people served each year are infants and toddlers whose families rely on First Steps, a $60 million state and federal program that was cut 5 percent in 2010.
The reimbursement rate for vocational rehabilitation, another area of emphasis for Easter Seals, fell 10 percent.
Pinching pennies
Reimbursement rates have never covered the whole cost of therapy, but CEO James Vento described the current financial picture as "probably more questionable than it's ever been.
"Everybody's holding their breath," he said.
Other disability-service organizations are in the same boat.
"We've addressed it initially trying to become more efficient," said Julia Huffman, chief operating officer at Noble of Indiana, which serves people with developmental disabilities.
"We try to focus on those things that impact our economy and get people back to work, paying taxes, decrease reliance on public support," Huffman said.
Crossroads' ability to churn a profit makes it especially endearing to Lindsey Hahn, a past Easter Seals board member and president of Metro Plastics Technologies in Noblesville.
"The way we raise our money … it's not charity," Hahn said. "Those people are earning their way."•
 
Please enable JavaScript to view this content.