While it lacks a hometown pedigree, the new Indianapolis Colts Grille (110 W. Washington St., 631-2007) has a winning attitude and some definite tricks in its playbook. If it wins the where-do-we-eat-before-the-game coin toss, it has the potential to earn fans.
The biggest plus for this national chain—besides the obvious marketing tie to our football team—is the grooves in the floor, which allow for the dining room to be subdivided for simultaneous viewing of multiple games. Why is that a big deal? It isn't … if everyone's into the same big match-up on a given Sunday. But when there are multiple gridiron confrontations of consequence, the restaurant can be sectioned off, allowing you to park yourself in the quadrant of your choice with minimal audio spillage from the other flat-screened games. Look for the team logos attached to each TV to find out what game it will be showing next.
Cool, yes. And the food's not bad, either.
Make sure, though, to give yourself some pre-game time to sort through the overloaded menu.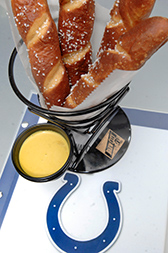 The delicious Deep Fried Pretzels at Indianapolis Colts Grille are unlikely to last past the coin toss. (IBJ Photo/ Perry Reichanadter)
We started with Housemade Sausage Pizza Puff ($7.99), which proved to be little more than biggie-sized but understuffed, mushy pizza rolls. Significantly better were the Deep Fried Pretzels ($7.99), a misleading description for anyone who has had deep-fried anything at the Indiana State Fair. These were actually a wonderful merger of bread stick technology with crispy pretzel outer shells. Two bucks a stick is a little steep (anywhere but in a stadium) but the cost aside, these overachieve.
On such a lengthy menu, a local company would have included a pork tenderloin sandwich. Here, though, the Jerk Pork Tenderloin ($14.99) isn't a massive disc on a bun. Rather, it's, well, a pork tenderloin, grilled, sliced, and topped with a decidedly non-Hoosier Caribbean watermelon chili relish, parked on brown rice and served with grilled veggies. Local purists may object. I'm not complaining.
Burgers can make or break a sports bar, and Indianapolis Colts Grille has a variety to choose from. Since we were lunching a bit earlier than usual, my companion straddled the a.m. meals with a Breakfast Burger ($11.99), delivered open-faced with a fried egg, mozzarella cheese and, most notably, bacon marmalade.
Yes, bacon marmalade. Now that sounds state-fair-ready. And it's actually quite good, a sweet finishing touch on an already ample cheeseburger. Nothing wakes you up like crisp fries dipped in the egg yolk atop your burger.
Dessert? That will have to wait for Monday Night Football.•
—Lou Harry
__________
Second in a month-long series of "game-on" restaurants.
Please enable JavaScript to view this content.