Indiana University has hired an internationally recognized pancreatic cancer researcher to join its Melvin and Bren Simon Cancer Center as the first Myles Brand Professor of Cancer Research.
Dr. Murray Korc will begin his new duties at the center on the downtown Indianapolis campus of IUPUI on Oct. 1, IU said Thursday morning.
The announcement coincides with the two-year anniversary of the deaths of Brand and Mel Simon. Brand, a former IU and NCAA president, and Simon, a co-owner of the Indiana Pacers and shopping mall developer, both died of pancreatic cancer on Sept. 16, 2009.
"For me to be the Myles Brand chair at the Simon Cancer Center is really very inspiring," Korc said. "I had to say yes to this."
Korc, 64, comes to IU as the scientific leader of the pancreatic cancer group at the Dartmouth-Hitchcock Norris Cotton Cancer Center in Lebanon, N.H.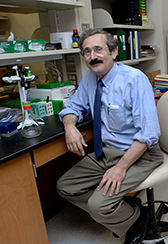 Korc starts Oct. 1. (IBJ Photo/Perry Reichanadter)
His work at the IU Cancer Center was made possible by a $60 million grant provided by Lilly Endowment to support IU's Physician Scientist Initiative. The university's School of Medicine created the initiative in December 2009 to help advance scientific discoveries into commercial products.
Dr. David Wilkes, executive associate dean for research affairs at the School of Medicine, said Korc's arrival should bolster the university's efforts.
"We're a medical school; our customers are our patients," he said. "What's the best way to take care of your customers? If you're able to make new discoveries to translate into better care, that's what it's really all about."
Korc's pancreatic cancer research has been continuously funded by the National Institutes of Health since 1981.
It's estimated that more than 44,000 people in the United States will be afflicted with pancreatic cancer in 2011, and nearly 38,000 will die from the disease this year.
Pancreatic cancer is one of the deadliest forms of cancer because a lack of symptoms makes it difficult to detect. Once the cancer is discovered, it's often too late. The survival rate after five years is only 6 percent, Korc said.
"I label it a devilish disease," he said. "Whenever you target it, it creates different pathways."
Korc has served since 2003 as chairman of the Dartmouth-Hitchcock Medical Center Department of Medicine. He received his medical degree in 1974 from Albany Medical College in Albany, N.Y.
The Simon Cancer Center has more than 220 physicians and researchers in Indianapolis working to find better ways to prevent, detect and treat cancer. The center is best known for its advances in treatments for breast and testicular cancers.
The Simons contributed $50 million toward a $150 million addition to the cancer center. The new facility opened in 2008.
The IU Cancer Center is one of 63 in the nation recognized by the National Cancer Institute for a combination of high-level care and research.
Please enable JavaScript to view this content.