The 2011-2012 arts season kicked off with two big hits, one more surprising than the other.
Excellence isn't just a target, it's an expectation for anyone who has attended an "Evening with the Stars" gala for the Indianapolis City Ballet.
So I tried not to have my hopes raised impossibly high for this year's event, which helped kick off the 2011-2012 performing arts season.
But lowering my expectations wasn't necessary. Once again, excellence was achieved by dancer after dancer. Maria Kochetkova of the San Francisco Ballet and Daniel Ulbricht of the New York City Ballet each offered riveting solo turns in, respectively, Jorma Elo's "One Overture" and Servy Gallardo's "Piazzolla Tango." Australian dancer Aaron Smyth lit up the house with "Feeling Good," set to music by Nina Simone. And Paul Ghiselin of Les Ballets Trockadero
de Monte Carlo created a hilarious and oddly touching cross-dressed take on "The Dying Swan."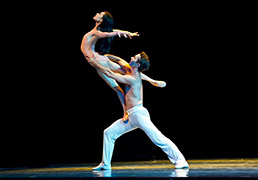 Yuan Yuan Tan and Damian Smith (Photo courtesy Indianapolis City Ballet/Gene Schiavone)
For me, though, the highlight came courtesy of San Francisco Ballet's Yuan Yuan Tan and Damian Smith. Steady, elegant, and achingly sad from its initial slow sway to its precise, seemingly friction-free lifts, through its single gentle kiss to its heart-stoppingly simple final moment, Christopher Wheeldon's "After the Rain" captured an emotional, wordless, stunningly beautiful journey. Notes of regret, longing, peace, resignation, love and more were played out by the pair, set to the simple sound of piano and violin. While I appreciated and thrilled at some of the other "look at what I can do" performers on the program, it's Tan and Smith whose work I felt the deepest.
"An Evening with the Stars" was just one of two events for the Indianapolis City Ballet. A curtain-raiser of sorts occurred on the previous evening with the company's first "Young Stars of Ballet" event.
There was outstanding work here as well, with some of the "Evening with the Stars" headline acts sharing the stage with up-and-comers from Indy and beyond. But like a meal featuring far too many desserts, the overstuffed show is likely to be remembered as much for its excessive quantity as for its quality. More careful pre-show planning might have kept the evening—which clocked in at over three hours and 15 minutes—to a more manageable length. A tribute to master dance teacher David Howard, for instance, was well-deserved and moving but, with lengthy video and testimonial, could have served as its own program.
Still, dance pleasures were in abundance. Indy's Chris Lingner re-created his work from the tour of the Broadway show "Movin' Out," Skylar Brandt from the American Ballet Theatre magically took on Adam Hougland's "Stranded," and Fernando Ribeiro Duarte, Shu Kinouchi and Gabrielle Johnson found unexpected grace in the "We Insist—Pas de Trois" threesome. And the potentially overwhelming show-closing "Le Grand Defile," flooding the stage with dozens of local dancers, managed to feel like an honest-to-goodness piece of choreography rather than a pack-the-house marketing scheme.
Both programs continued the ICB tradition of both artistic excellence and a struggle with how to tie it all together. While both were narrated and annotated by accomplished professionals in the field, neither the text for "Young Stars" (overly condescending) nor "Evening with the Stars" (too hesitant) added to the nights' pleasures.
____________
In 2009, when I saw the national tour of "The Drowsy Chaperone" at Indiana University Auditorium, I wrote:
"…I'm speculating that future productions at Beef & Boards, Footlite Musicals and/or Indianapolis Civic Theatre will be successful ones, thanks to the show's tight book, charming lead character/narrator, gags large and small, and a set of clever, catchy songs…. I'm confident a production by any of the aforementioned three local theaters would be just as fun, if not more."
Well, my confidence has been gloriously justified by Booth Tarkington Civic Theatre (formerly Indianapolis Civic Theater) with a production of "The Drowsy Chaperone" that not only exceeds in overall quality anything I've seen on any Civic stage, but simultaneously puts that national non-Equity tour to shame.
Yes, it's that good.
The piece, in case you are unfamiliar, concerns an unnamed lonely gent who finds solace in recordings of old musicals. He shares with the audience a recording of a 1920s lark called "The Drowsy Chaperone" and, as the record plays, the highlights come to life in his apartment.The challenge of the show, as I wrote in my earlier review, is to balance the intimacy of the loner's life—we need to be close enough to connect with him—and the big silliness of the show. That's where the national tour dropped the ball.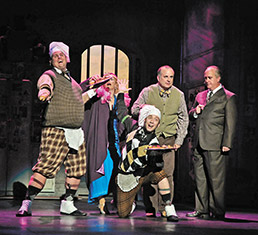 A period musical comedy fills the apartment of a contemporary man in Civic's "The Drowsy Chaperone." (Photo courtesy Civic Theatre)
I'm glad I saw that earlier production, though, because it gives some perspective on the outstanding work being done by Civic at its new home, The Tarkington Theatre at the Center for the Performing Arts. If I only saw this one, I could easily have labeled "Chaperone" as fool proof. But it isn't. Excess ham can spoil the fun of the carefully kitschy numbers. Excess sentiment can tip the balance in the other direction.
But under Ron Morgan's sure directorial and choreographic hand, it quickly became apparent that there was no need to worry. The sets by David Gallo, costumes of Jean Engstrom, sound by Michael J. Lasley, music direction of Brent E. Marty, lighting by Ryan Koharchik, and hair and wig work by Debbie L. Williams rival national tours and professional regional theaters. Actors who I previously thought were "good enough for community theater" shined brightly. No allowances need be made for the work of Vickie Cornelius Phipps as dizzy matron Mrs. Tottendale or Ian Cruz as hilariously stereotyped lover Aldolpho. And if one big number, "Show Off," didn't come together as it should, blame can be placed in part on the writers who concocted a number that demands nothing less than spectacular showmanship to fully work.
The production's ace in the hole is actor Paul Hansen, who brings a heartbreaking joy to the lead. It's the truthfulness and humane humor of his performance, coupled with the knowing writing, that allows "The Drowsy Chaperone" to transcend the genre of times-gone-by musicals. "No, No Nannette," this ain't. (For more on Hansen, one of the "clutch-hitting" actors I highlighted in this year's A&E season preview, visit www.ibj.com/arts.)
So why was I surprised?
Because when you put a civic theater into a brand-spanking-new top-notch venue, there is a risk the gilded frame will show off the flaws in the company. In this case, though, the new digs raised the bar and Civic leaped over it. Perhaps the highest praise I can give Civic's production is that it makes an effective case for "The Drowsy Chaperone" being a great American musical. I love leaving a show wanting to thank everyone involved for a blissfully fun evening of theater. And, if time allowed, I'd go back to see it in a heartbeat.
"The Drowsy Chaperone" runs through Sept. 24.•
__________
For more new-season reviews, visit Lou Harry's A&E blog at www.ibj.com/arts
Please enable JavaScript to view this content.