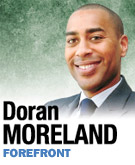 It seems that, for those fighting the hardest to stay afloat in this economy, the hits just keep coming. Yet another burden for families in the middle class and below is the rising cost of higher education.
When the economy is strong, state revenue flows into public colleges and universities, providing students lower costs. Yet during economic downturns, state leaders starve higher ed institutions, causing tuitions to rise just when access to education is needed most.
Earlier this month, the State Budget Committee, which is made up of four legislators and the governor's budget director, voiced concerns about rising tuition rates directly with university presidents. The committee pointed out that every higher education institution in Indiana except Ivy Tech Community College and a few regional campuses of Purdue University exceeded State Commission on Higher Education guidelines for tuition increases.
University presidents cited rising expenses, lower financial aid availability and strong competition in their field as the main reasons behind their actions.
While these points are valid, tuition increases must be put into broader context. Higher education has always been a reliable vehicle for individual economic security, but if students must increase their debt load simply to finish their education, at what point does their degree become more of a burden then a benefit?
The gates to self-improvement should be wide open for any Hoosier who has the commitment to succeed. But a rising price tag for academics says to less-well-off students that the post-secondary journey just might not be for you.
Students who come from families where college degrees are prevalent may choose to take on the increasing debt to achieve educational goals. But for individuals who are the first in a family to reach beyond high school, the message from the community should be: If you are committed to learning, we're committed to you. Because when you succeed, so do we all.
The 21st Century Scholars program established by former Gov. Evan Bayh was a great demonstration of this philosophy. With Bayh's initiative, any student who met federal poverty standards could receive tuition to any public university in Indiana if they committed to pursuing college at the beginning of high school, stayed out of trouble, and maintained strong grades.
Sadly, today, 21st Century Scholars is still operating but is no longer the robust program it once was due to decisions to bleed Scholars of needed revenue. This is a shame because the Scholars message, that hope lies ahead if you are committed, was incredibly motivating for bright students of low means.
Recognition is due to Ivy Tech Community College and Western Governors University for offering low-income and older students access to affordable higher education. Ivy Tech's option to transfer two-year associate credits to a four-year university in Indiana is a terrific solution for college accessibility and an incredible feat (I'm remembering the bureaucratic hurdles endured to change from one major to another within the same university).
The higher education commission is doing the right thing by holding university leaders accountable for rising costs, but these institutions can do only so much to address the problem. After all, it is completely rational for university presidents to raise costs to stay in line with faculty and amenities offered at competing schools.
Responsibility to ensure accessibility also rests with state legislators, state education leaders and our governor. They should work together to ensure that the pursuit of personal improvement and self-discovery through education is supported from youth through adulthood.
We are undergoing aggressive school reform in communities throughout Indiana. It's believed that, with higher standards and strong accountability measures, students will be better prepared to gain needed skills for 21st century employment.
But if what lies ahead for these students is a higher education landscape that is simply unaffordable, haven't we missed the point?•
• Moreland, who owns the consulting firm Exponent Strategies, has served as a senior aide to former U.S. Sen. Evan Bayh and as a special assistant to former Mayor Bart Peterson. Send comments on this column to ibjedit@ibj.com.
Please enable JavaScript to view this content.