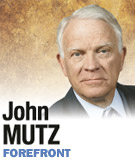 Ten years ago in April, I wrote a column for this publication headlined "Immigration policy is bottom-line issue." I felt our current policy was "a mixture of arbitrary preferences and ever-increasing waiting lists." The country had nearly twice the number of undocumented immigrants as officials thought. If true, one in every 25 U.S. residents would be an illegal alien.
Unfortunately, the situation has not changed and is possibly worse. It was frustrating that legislation wasn't passed then. But now, there is no excuse for inaction.
Politicians on both sides of the aisle are using the issue to cater to certain portions of the electorate. Some governors and state legislators have passed state statutes to deal with the issue, but I opposed legislation offered in the last session of the General Assembly because I believe we should have a uniform system for all 50 states. State legislation, like Arizona's or Indiana's, might prompt Congress to act, but is largely ineffective.
The majority of legal immigrants are not admitted to the United States based on evidence of employability, educational attainment or their ability to add something of importance to the American way of life. We should accept people who meet our critical-skill needs rather than basing quotas on political and diversity goals. The immigration form should look like an employment application and applicants should be screened on the basis of personal qualifications.
During a recent visit to Canada, I encountered a number of immigrants from many parts of the world. The new arrivals I met were bright, well-educated and eager to contribute to their new homeland. Several said they chose Canada because they couldn't get into the United States.
However, some parts of the business community are dependent on unskilled immigrant labor.
The immigration service should be required to set up a system for issuing annual work permits to individuals who fill gaps in the service sector of the economy. While working here, these people would have an opportunity to gain the education and training necessary to meet our new immigration requirements. Like some European countries, we could expand or contract the number of permits issued to meet our needs.
No matter what we do with new reforms, the United States should continue its humane treatment of families by allowing immigration of spouses, children and possibly parents of U.S. citizens.
Actual practice on the borders of the United States, until recently, has clearly violated the statutory cap on the number of immigrants established in 1996. Now the Obama administration is deporting nearly 400,000 illegal aliens a year, yet the clamor for change grows even stronger.
People come here largely to seek a better life, which includes a job. I don't believe an expensive fence will keep people out. However, we should require employers to regularly check the citizenship status of prospective employees with the federal government's digital E-Verify system. The procedure would be similar to the voluntary compliance approach we use to enforce the tax code and would include a declaration concerning compliance on annual returns and appropriate penalties for violations. If jobs are not available, there won't be an incentive to immigrate.
Until some reasonable change in the legislation is made, we will continue to have a system that is unfair and impossible to enforce. The emotional question of what to do with illegal immigrants who are already here is the hardest to solve. Accelerated enforcement efforts and the new employer verification requirements will gradually lower the number of illegal aliens, now estimated at 11 million to 12 million. For young people who are here illegally, some exceptions to the new rules could be made if the individual has successfully completed two years in college or served in the armed forces for two years.
Even in this period of economic turmoil, lots of people want to be part of the U.S. system. We should let people immigrate who can support themselves and add value to the American economy.•
__________
Mutz has held leadership positions including lieutenant governor and president of Lilly Endowment and PSI Energy. Send comments on this column to ibjedit@ibj.com.
Please enable JavaScript to view this content.