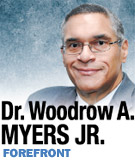 The number of infants who die before reaching their first birthday (per 1,000 live births) is known as the infant mortality rate, and Indiana's consistently ranks higher than the rest of the nation. If that's not bad enough, African-Americans have a 2.4 times higher infant mortality rate than that of non-Hispanic white Hoosiers.
These are not the data from many decades ago, before we had prenatal care, effective antibiotics, Medicaid, county hospitals, nurse midwives, family practitioners and obstetricians. These are the most recent data from the Indiana Department of Health.
Infant death, especially before the first birthday, is a real tragedy—not just for the families, but for society. In public health, infant mortality is one way we compare "health" and health care systems of one country or state to another. The Kaiser Family Foundation ranked Indiana 38th (out of 50 states and the District of Columbia) with 7.8 deaths out of 1,000 live births. Illinois, Michigan and Kentucky all have better rates than Indiana.
When the African-American rate is calculated, Indiana is 49th. Only Washington, D.C., and Hawaii have higher/worse rates than Indiana's 16 deaths per 1,000 live births. (Our Hispanic infant mortality rate is also 16.)
In Indiana, the five leading causes of infant death are short gestation (pre-maturity), congenital anomalies, unintentional injury, Sudden Infant Death Syndrome and maternal pregnancy complications. Of these, short gestation (which results in a low birth weight) is the most serious, and in Indiana 8.3 percent of all births fall into the low-birth-weight category. In Cuba, the low-birth-weight rate is about 5 percent. In China, it is 3 percent.
We know that early prenatal care results in much better pregnancy outcomes. About 82 percent of white Hoosier moms receive prenatal care in the first trimester of pregnancy, while only 67 percent of African-American moms receive early prenatal care. Both rates should be 100 percent.
For decades, maternal and child health experts have known there are a number of factors that contribute to these abysmal numbers. Some are genetic (like inherited diseases), some are environmental (pollutants, secondhand tobacco smoke exposure), some are behavioral (smoking cigarettes, missing doctor's appointments), and some are financial (inadequate nutrition, skipping doctor's appointments). And except for the genetic factors (where a lot of work is under way), today we can realize a major positive impact on all of them—if we try harder and work smarter.
Recent studies have shown that where you live really matters, as well. The more racially segregated the community, the higher the likelihood of infant death. Segregation correlates directly with the social determinants of health, such as the quality of schools, access to quality health care and nutritious foods, and exposure to environmental hazards—all of which have a significant impact on how long one lives. And over the last 10 years, the numbers are getting worse, not better.
The failure to provide comprehensive prenatal care is dreadful. Do we have enough facilities? Do we have enough providers? Are they accessible? The failure to seek prenatal care is tantamount to child abuse. Do we have enough efforts (public and private) to reach pregnant women? Are they effective?
Are there environmental factors specific to Indiana affecting our rates? Is Indiana Medicaid sufficient to assure adequate prenatal coverage for all Hoosiers not covered by private health insurance? These are worthy topics for the next session of the General Assembly. These are worthy priorities for the current and next mayor and governor.
Back in the 1980s, infant mortality was a bigger news story than it is today. There were hearings. There were task forces. There was outrage.
Today, infant mortality seems buried in the morass of so many other health care issues, like the obesity epidemic, faulty hip replacements, Alzheimer's and the other giant, costly challenges that suck the air out of the room. We need to breathe life back into the fight for the least, and the smallest, among us.•
__________
Myers is a former chief medical officer for WellPoint Inc. and served as health commissioner for Indiana and New York City. Send comments on this column to ibjedit@ibj.com.
Please enable JavaScript to view this content.