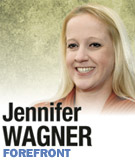 Bring back the long-standing annual tradition of hundreds of elected officials, community leaders, lobbyists and reporters breaking bread and making fun of one another?
I could hardly believe my ears, but that's what the guy across the table was proposing.
That guy was John Ketzenberger, a former business journalist who now heads the Indiana Fiscal Policy Institute. The more we talked about the idea, the more I wanted to be part of the revival.
For decades, the Indianapolis Press Club put on the dinner as its annual fundraising event. When the Press Club shut its doors, so went the Gridiron.
It's been nearly a decade since the tradition faded away. The void it left has not been filled, and the need for humor in politics, at least in my estimation, has never been greater.
Modeled after the venerable D.C. event of the same name, the Indiana Gridiron Dinner was a time for hacks and pols to mock themselves and every element of the political process.
The jokes could be downright mean, but everyone there knew it was all in good fun. (Because the folks who couldn't laugh at themselves stayed home.)
I attended my first Gridiron dinner a decade ago, and it was quite the eye-opener for a young Indianapolis Star reporter to realize that most people who work in politics (a) can put aside their ideological differences and get along just fine as real people, and (b) have great senses of humor.
Civility in politics isn't dead. You just have to find the middle ground of funny.
That's why I'm pleased, as part of a small planning group, to officially announce the 2012 Indiana Gridiron Dinner. The event will be hosted by the Indiana Fiscal Policy Institute at the Indiana Roof Ballroom on Feb. 22.
If you don't know much about it, the Indiana Fiscal Policy Institute is a serious organization with a serious mission: enhancing the effectiveness and accountability of state and local government through the education of public sector, business and labor leaders on significant fiscal policy issues and the consequences of state and local decisions.
The folks there produce thought-provoking publications and research analyses that have helped shape the fiscal landscape.
Why, then, would this serious organization be leading the charge to bring back one of the most irreverent, hilarious events in Indiana politics?
Because, quite frankly, we need it.
We need to be able to laugh at ourselves to relieve some of the pressure.
The debate about the future of our state is a significant one, and the issues are important, but there's comic gold along that road.
Without naming names, some interesting things have happened since the last Gridiron dinner.
Here are a few clues in the form of fictitious quotes:
"Honest, officer, I don't know how I wound up holding these high heels."
"That's exactly how it happened, honey. He took my iPad, my phone and all the cash I had on me."
"Raising taxes in an election year is a bad idea. Raising taxes in an election year is a bad idea. Raising taxes in an election year is a bad idea."
"Members of the commission, I do solemnly swear that I have never, ever in my life known my home address."
Don't get it? Don't worry about it. You probably work in an industry that never touches the world of politics, and you're almost certainly better off for it.
For those of you who do know what I'm talking about, please consider joining the Indiana Fiscal Policy Institute on Feb. 22 for an off-kilter evening you won't soon forget.
I won't divulge the opening act or the identities of those who will roast and be roasted, but I can promise an entertaining lineup—complete with the mock newscast that always brought down the house.
The bottom line: It's been far too long since we had this much fun, and I hope to see you there.
More information about the event will be posted soon at www.IndianaGridiron.com.•
__________
Wagner is a lifelong Indianapolis resident who served as deputy director of public affairs at the National Nuclear Security Administration. Send comments on this column to ibjedit@ibj.com.
Please enable JavaScript to view this content.