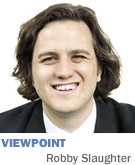 We all know we're supposed to network with other professionals. Most of us occasionally muster as much tact as we can and drag ourselves to a mixer or luncheon.
Yet in this era of social media and economic downturn, face-to-face networking is more important than ever. Those who get out from behind their screens, shake hands, pay attention and follow up have the most success of all.
It is tempting to dismiss the advice that we should "always be networking." If companies have jobs, shouldn't they announce those opportunities publicly so they get the best possible candidates? Shouldn't job-seekers be evaluated on the basis of their experience and their ability, not how chummy they are with decision-makers?
Since we can control the quality of our work, we want to be judged solely on our efforts. Networking feels like the opposite of working; it seems like meeting new people is more about currying favor than enhancing our ability to contribute.
Although this rationale is attractive, networking is part of a four-component career strategy along with experience, expertise and enthusiasm. You must have the qualifications and the background to succeed, and you must be positive and assertive in the workplace. Your personal network, however, is what will grant you the most direct access to the people you need to know. The next person you meet could be the one who changes everything.
In this sense, networking is not so much about expanding your contact database but rather about pruning your relationships. Most of our connections are circumstantial. We know others based on places where we have lived or worked.
Yet, we can optimize our careers by making an effort to meet new people with common interests. By selectively attending networking events, joining social clubs, or even asking for specific introductions, we can travel the web of interpersonal relationships. We can reach places we never imagined and encounter people we have only dreamed of meeting.
The rapid ascent of social networking technologies presents additional challenges.
On the one hand, tools like LinkedIn, Facebook and Twitter enable us to virtually meet people and exchange ideas with incredible speed and convenience. Yet, these connections seem to require greater focus to maintain.
It might be more efficient to announce your job search online to hundreds of followers, but it will likely be more effective to catch up with an old colleague over lunch.
This isn't a strike against the Internet generation. There's actually a scientific reason that "pressing the flesh" is so powerful.
Psychologists have studied the way we interact in person and, to no surprise, it turns out we have a much stronger memory for faces than we do for names, professions or other factoids. Shake hands with someone today, and chances are good they will seem eerily familiar if you spot them at a shopping mall months or even years later.
Almost all of us feel that we easily forget names but quickly recognize faces. You might not remember who they are or what was said, but you're likely to know for the rest of your life that you've seen that face before. Leverage that science in your favor.
Networking is more important than ever before. Millions of people and countless more opportunities are ahead of you. The most productive way to grow your own career is to change the people you know and your attitude toward others.
When you're networking, you are helping to optimize our social fabric. You're sharing your dreams and desires with the people most able to understand and help you take flight.•
__________
Slaughter is a principal with Slaughter Development, an Indianapolis business-process and work-flow-consulting company. Information on his new book, "Failure: The Secret to Success," is available at www.slaughterdevelopment.com.
Please enable JavaScript to view this content.