As expected, the Indianapolis Symphony Orchestra's season-opening gala was a coming-out party for the company's new music director, Krzysztof Urbanski. And, as such, it seemed a successful one, with Urbanski warmly welcomed by the crowd, demonstrating himself to be skilled, humble, charming, confident, interesting and a good sport.
But as important as the Urbanski introduction was in the development and growth of the ISO, the event proved more than just an opportunity for paid-forward standing ovations in anticipation of future musical greatness. The evening was also a bold, definitive and open-eyed statement of what the ISO is right now.
Some context: In previous years, the September gala focused on classical music. Not mind-stretching classical, granted (wouldn't want to alienate the once-a-year Hilbert Circle Theatre visitors), but still high-minded enough that the crowd felt it was investing in culture. Often, that meant bringing in a legend to help underline that legitimacy (see Itzhak Perlman's appearance last year).
It takes confidence to break with such tradition.
Yes, the gala again opened with accessible classical—Tchaikovsky's Concerto No. 1 in B-flat Minor for Piano and Orchestra, which allowed for lush sounds from the ISO with plenty of room for virtuoso keyboarding from guest Garrick Ohlsson. Urbanski—hidden to some audience members behind the center-stage piano lid—conducted with grace that never drifted into the casual, his fingers proving as expressive as his arms and baton. So far, so good…and so traditional.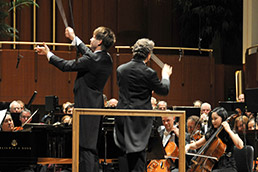 Krzysztof Urbanski and Jack Everly playfully shared the podium at the ISO season-opening gala. (Photo/ Rob Banayote)
The second act, though, began with an effective visual gag—both Urbanski and Principal Pops Conductor Jack Everly attempting to take the podium, leading the players in a channel-switching conflict of classical and pops.
Yes, it was fun. But the fact that Everly remained on stage to lead the band acknowledged, on such a high-profile night, that the Pops are an integral, even progressive, part of the ISO.
Which is only right. Indy/Everly-created shows are being staged around the country (including the ISO's Cole Porter celebration being performed by the New York Pops at Carnegie Hall this month), giving the ISO a national stature that the classical series, strong as it is, isn't likely to acquire without touring. New, innovative programs are being created by Everly and company
on a regular basis for ISO premieres (see "Do You Hear the People Sing" next month). And, this season, the Pops will be spreading its wings to the Palladium for its Sunday shows, the better to build a stronger fan base with Carmel-ites resistant to traveling south of 86th Street.
Everly and the Pops have earned a place at the gala table. And the glorious sounds of Bernstein's "West Side Story" overture and Irving Berlin medley provided additional highlights in an evening full of highlights (plus the opportunity for some from-the-podium news: Everly is negotiating to offer Indy a performance of the complete "West Side Story" score to accompany a screening of the Oscar-winning film).
There was more: Trio in residence Time for Three had some fun with Vittorio Monti's "Czardas," including two of the three playing a single violin. Former ISO leader Raymond Leppard made a surprising and effective cameo appearance. And Urbanski returned to lead a calming, highly satisfying performance of Mikhail Glinka's "Overture to Ruslan and Ludmila."
In all, the most effective gala the ISO has staged in years. And a terrific start to the Urbanski era.
Or maybe I should say, the Urbanski/Everly era. Stay tuned.
____________
With candy and costumes already lining the aisles in department stores, technically it isn't inappropriate for the Indiana Repertory Theatre to launch its season with "Dracula" (which runs through Oct. 1, well short of Halloween). I shouldn't be surprised that the result is, well, costumed candy.
Highlights include atmospheric music (by, I kid you not, Gregg Coffin), lovely period costumes, clever special effects and a game cast. The primary deficit is playwright Steven Dietz's adaptation, which lacks a cohesive style—an issue I've noted with other works of his staged here recently. It opens with inmate Renfield offering self-reflexive references to the author, features epistolary moments that pop out of nowhere, and seems unambitious in mining both the laughs and the chills inherent in the familiar story. It boasts of being closer to Bram Stoker's original than other versions, but fidelity isn't nearly as important as theatricality.
The lead vampire is less Bela Lugosi and more Gary Oldman (although with the face of the Cat in the Hat), which is neither a good nor a bad thing, just unmemorable. The vampire hunters aren't given much to do besides play to type. On the victim side, Lee Stark offers a girl-next-door Mina and Jennifer Joan Thompson a passionate Lucy, but neither proves as compelling as the briefly seen pair of writhing Vixens (Lisa Ermel and Leah DeWalt), who have already succumbed to Dracula's allure. With more of their energy, this "Dracula" might have had more bite.
____________
"Singin' in the Rain," running through Oct. 9 at Beef & Boards Dinner Theatre, makes clear why the musical is celebrated as a movie and not as a stage show.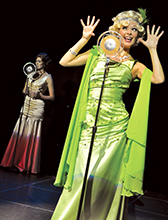 Lina Lamont (Sarah Hund) pretends to perform "You Are My Lucky Star" while a curtain raises to reveal Kathy Selden (Sara Brophy) is actually singing. (Photo Courtesy Beef & Boards Dinner Theatre)
Yes, all the familiar songs are here and most are pleasantly sung and danced. And, yes, there's rain on stage during the titular number. But the adapters of the film—and this is no fault of B&B—opted to err on the side of surface fidelity. They captured the words, music and choreographic ideas but not the spirit of the film. As such, it can't help but feel secondhand. Still, there's fun to be had in the goofy silent-movie video, a pile of beloved songs, and the giddy performance of Sarah Hund as Lina Lamont, the silent-movie starlet whose ear-piercing massacres of the English language make a Hollywood studio fearful of the transition to talkies. Interesting that her song, not in the film, proves to be one of this production's highlights.•
__________
This column appears weekly. Send information on upcoming arts and entertainment events to lharry@ibj.com.
Please enable JavaScript to view this content.