If the city's tourism and hospitality industry were rooting for Super Bowl contenders based merely on economic impact, everyone from bar managers to bellhops might be decked out in green and white or blue and orange.
A 2012 Super Bowl between the Chicago Bears and New York Jets is one of the matchups that would give local businesses plenty to cheer about, said Robert Tuchman, whose New York-based company, Skylight Entertainment, has handled corporate events, parties and entertainment at scores of Super Bowls.
Tuchman said the Jets and Bears are among the teams that would super size the Feb. 5 game's economic impact, which is pegged at $300 million to $450 million.
National Football League officials have told Indianapolis to expect 150,000 visitors here for the Super Bowl. Tuchman said if two prime teams make it, the number of visitors will be closer to 250,000, even though Lucas Oil Stadium will seat only 70,000 for the game.
"If certain teams play, there will be tons and tons of fans who come without a ticket," Tuchman said. "Those people will stay in your hotels, eat at your restaurants, and shop at your stores." He said the right teams could hike visitor spending at least 30 percent.
Indianapolis appears ready to handle the influx. The city will host one of only a handful of urban Super Bowls, and it's the first city to construct a special Super Bowl village downtown. The village and NFL Experience at the Indiana Convention Center will open Jan. 27, more than a week before the Super Bowl.
ICVA and the 2012 Super Bowl Host Committee have already planned a marketing campaign to attract visitors from cities within a day's drive to come the weekend before Super Bowl weekend or early in the week of the Super Bowl, when there is still some hotel and restaurant capacity.
Since Indianapolis will host the most centrally located Super Bowl ever—with nine NFL teams within 400 miles of here—Tuchman thinks the city is ripe to capitalize.
"You could have a [non-game] attendance record," he said.
If the right teams make it.
The right stuff
So what makes a team prime in terms of boosting visitor spending?
Travel time is just one factor, sports marketers said. Others are the length of time since the team's last Super Bowl appearance, the size and fervor of the team's following, and the fans' wealth.
The Chicago Bears are the closest of the early Super Bowl hopefuls, but they might not be the most intriguing at this point. With their first hot start in years, the Detroit Lions—who play just 282 miles away—also would provide a healthy bump in visitor spending.
"If the Lions can slip past the [Green Bay] Packers and [Chicago] Bears, you'll have half the state of Michigan driving down to Indianapolis," said sports business author and University of Michigan dean Mark Rosentraub.
While the auto industry fallout has hurt Michigan's economy, Rosentraub doesn't think that would dampen Lions' fans desire to experience a Super Bowl firsthand.
"It's been so long since this team has had any kind of success, and the city of Detroit is so hungry for a winner, I believe they'd come in droves," Rosentraub said.
Detroit has never been to a Super Bowl.
"When a team hasn't been in a while, or has never been, I've seen it time and again—It has a big, big impact on how that team's fans travel," Tuchman said. "We saw that in 2007, with a lot of Colts fans coming down to Miami. Fans with that mind-set begin to wonder if this is a once-in-a-lifetime opportunity even if you can't get tickets, just to experience the atmosphere."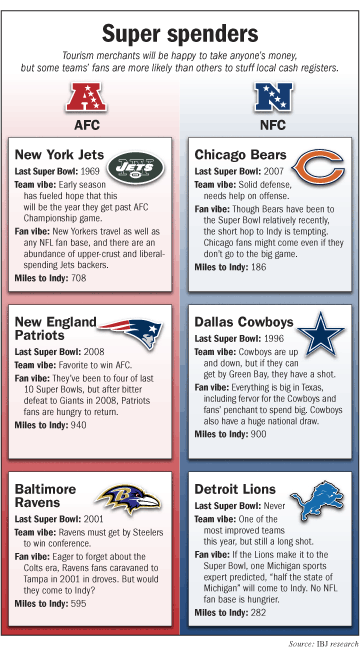 Market hunger also makes the Jets a good prospect. The Jets haven't played in a Super Bowl since quarterback Joe Namath led them there in 1969.
That's one factor that makes New England less appealing, Tuchman said.
"The Patriots have been to the Super Bowl so much [four times in the last decade], they just don't travel all that well," Tuchman said. "In recent Super Bowls, fan bases in Arizona, Seattle and Carolina didn't travel and that really hurt the economic impact of the host cities in those years."
Fervor a factor
Fan loyalty sometimes matters more than distance.
The Dallas Cowboys were last in a Super Bowl in 1996, but Tuchman said Dallas is also the city with one of the highest expectations for its football team.
"There's demand there, trust me, and though they're a bit farther away [from Indianapolis], the Cowboys fans would certainly come for the Super Bowl," he said.
The Cowboys are among a handful of NFL teams that have a national following. The Jets, Bears, Steelers and Packers do, too.
"Those types of teams draw fans from everywhere," Tuchman said. "And if they're in the vicinity, they could come to Indianapolis. The Bears definitely have a massive national following."
Another key factor is the available expendable income in a team's market.
Big markets like New York, Chicago, Dallas and New England are among the most affluent, sports business experts said.
"The key is to get people to spend money," said Michael Casinelli, president of San Diego-based Marketing Information Masters, which has conducted economic impact studies on four Super Bowls. "So wealth does matter. And the wealthier the market, the broader the impact."
There's another reason for hospitality officials to cheer for the Bears, said Chris Gahl, Indianapolis Convention and Visitors Association vice president of marketing and communications.
No city has more convention and meeting planners than Chicago, Gahl said. In addition to that, 60 percent of Indianapolis' summer leisure travelers come from Chicago.
"Chicago is intriguing for us because it's a key market for us to get as much exposure as we can for a number of reasons," Gahl said.
Gahl wouldn't single out two favorites for the game, but he didn't dismiss the importance of who ultimately plays.
"There have been some healthy discussions within the hospitality community about which teams might be best in the Super Bowl. A lot of people in the industry have an eye on it."
Big benefactors
So who's most likely to feel the boost should two prime teams play in Super Bowl XLVI?
"I don't know how much of a bump we would expect," said Craig Huse, co-owner of St. Elmo Steak House. "We can only seat so many people. But the more people that are exposed to us and our city, the better."
Tuchman said bar owners, retail stores, gas stations and car rental companies stand to gain the most if the right teams play. And the right matchup would broaden the spending footprint.
"If the economic impact is maximized, it will push the sphere of spending out further from downtown," Tuchman said. "Business in the suburbs, outlying areas and adjacent towns will see a dramatic lift in spending."
Another likely benefactor: ticket scalpers.
"If the fan base is strong enough, they travel and they have the money," Tuchman said, "the secondary ticket market will explode."•
 
Please enable JavaScript to view this content.