Several new restaurants, including a live-music spot downtown and an open-late cookie bakery in Broad Ripple, have filed plans to open soon.
Tin Roof, a chain of live-music bars, is moving into the first floor of the Century Building at Pennsylvania and Maryland streets. The spot will offer live music most evenings but transform into more of a sports bar on game days. It is scheduled to open by the end of the year. The chain has six other locations including in Nashville, Tenn.; Lexington, Ky.; and Columbia, S.C.
Lorenzo's, an Italian restaurant, is set to take over for downtown's Ambrosia Centro, which remains open in the meantime. The new owner is Browning Investments and the restaurant at 15 E. Maryland St. will be managed by Detroit-area restaurant veteran Geoffrey Browning. The switch is scheduled for Oct. 1.
Insomnia Cookies, a popular chain of bakery shops offering late-night delivery, has filed plans to open a shop in Broad Ripple. The shop will take 700 square feet at 809 Broad Ripple Ave. in the former home of an art gallery. Insomnia offers several types of fresh-baked cookies and cookie cakes, along with brownies and beverages.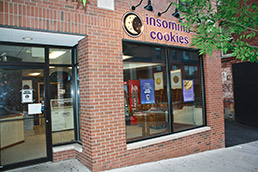 Insomnia Cookies, seen here in its Cornell University location, will bring its signature late-night delivery to Broad Ripple. (Photo Courtesy of Insomnia Cookies)
BRU Burger Bar, a casual burger concept from the parent company of Mesh, is taking over the former home of Elements at 415 N. Alabama St. The plans call for a new entrance on Massachusetts Avenue and a 700-square-foot addition along Alabama Street.
Tini, a hip bar with a limited food menu, is planned for a small spot next door to Chatham Tap, in the 700 block of Massachusetts Avenue. The night spot owned by Bradley Kime is taking a cozy 1,200 square feet.
Napolese, the gourmet pizza concept from Martha Hoover, is planning to open a location at 30 S. Meridian St. Hoover originally had planned a Petite Chou for part of the lobby of the former L.S. Ayres department store annex. The original Napolese is next door to the flagship Cafe Patachou at the corner of 49th and Pennsylvania streets.
Henry's Coffee Bistro is opening a location at 50 S. Meridian St., in the former home of Cafe Rene. The 300-square-foot shop is set to open Oct. 1. The home-grown chain has its flagship location along East Street just north of Massachusetts Avenue, along with a second location on Pennsylvania Street, just north of Washington Street.