Heartland Truly Moving Pictures recently announced a new partnership with Indianapolis-based branding firm Miles Design.
As Heartland's branding agency, Miles Design will lead efforts to increase awareness of Heartland events, as well as its overall mission. Financial terms of the deal were not disclosed.
Founded in 1991, Heartland is a not-for-profit that honors and promotes various films and filmmakers through the Heartland Film Festival each fall.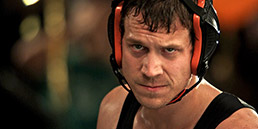 Miles Design will help promote the 2011 Heartland Film Festival, including "The Hammer," featuring Russell Harvard as Matt Hamill. (Photo Courtesy Heartland Truly Moving Pictures)
"We are looking forward to having Miles Design as a part of our team," said Jeffrey L. Sparks, president and CEO of Heartland. "Our new relationship with them is the next natural step as we continue to expand our image and develop our audience."  
"It's always very rewarding for us to work with people who understand the importance of developing a clear, consistent message," said Josh Miles, founder and president of Miles Design. "But as this is an organization whose purpose is close to our hearts, the opportunity is particularly special."
Miles Design and Heartland are concluding work on a branding and advertising campaign for the 2011 Heartland Film Festival, which takes place Oct. 13-22 in selected Indianapolis theaters.
Please enable JavaScript to view this content.