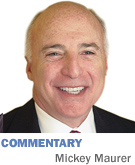 The mayoral election looms less than two months away. According to polls and pols, the race is so close that no one can accurately predict the winner until the smoke finally clears (the smoke won't literally clear unless a comprehensive ban is enacted).
As we enter the October stretch, what is on the lips of our energized and informed electorate? What are the issues hotly discussed around the board table, card table and dinner table? Education? Public safety? Is it Melina Kennedy? Is it Greg Ballard? No, it is Georgia—as in street.
A three-block section of Georgia Street is undergoing a $12 million upgrade. This significant reconfiguration incorporating a covered pedestrian-friendly mall will be completed in time for the Super Bowl.
Indianapolis Downtown Inc., the organization formed to develop, manage and market downtown, concocted a street renaming contest and encouraged everyone to participate. The Metropolitan Development Commission is set to consider name suggestions on Oct. 19 and forward its choice to Mayor Ballard.
With the project costing $4 million a block, taxpayers should have the right to name their pavement, but a few hysterical/historical citizens were incited to form a posse to rein in this initiative. City-County Council member Angela Mansfield, my compatriot on the smoking ban quest, submitted a resolution urging the mayor and the Metropolitan Development Commission to cease any efforts to rename Georgia Street—out of respect for the poor old street named in the city's original 1821 plat and to preserve the sacred name of Georgia into perpetuity. Georgia who? Surely we don't owe allegiance to the state of Georgia.
I don't see this dilemma rising to the level of Kennedy/Ballard debates, but I suppose we are capable of focusing on more than one issue at a time. I favor a temporary change to reflect our hospitality to the Super Bowl—the hokier the better. Consider Dungy Drive or Bowl Me Over Boulevard.
How about Della? We could use street signs to tell the football fanatics a little about ourselves. Della Street was Perry Mason's secretary and reputed lover. In multiple novels, the author Earle Stanley Gardner had the characters exchange kisses and proposals of marriage. She was a hot number and, after all, Men's Health magazine calls Indianapolis the most sexually satisfied city in America. Our visitors need to know that. Speaking of that, how about "Easy Street" to honor the women of the night who frequented this area in the late 19th century?
I like "The Street," so that the representatives of IDI who perpetrated this controversy can duly report to us, just like the wheeler-dealers in New York City, what was heard on The Street.
If the Metropolitan Development Commission and the mayor are serious about permanently renaming Georgia Street, then the name should embrace our Hoosier intelligence and sense of history. Homage to the Super Bowl and silly names should be abandoned in favor of a designation that will connote dignity and honor.
I endorse the choice suggested to me by Indianapolis attorney Lacy Johnson and would be pleased to tread on Crawford Street if it were named for William Crawford, an adored and respected member of the Indiana General Assembly who recently announced his retirement effective 2012.
At age 75, this Korean War veteran remains involved in activities centering on housing, education, penal reform, unemployment, economic development and civil rights and often is cited for his ability to reach consensus on the tough issues. First elected in 1972, Crawford received the Legislator of the Year Award in 1996 from the National Black Chamber of Commerce. He is the ranking minority member of the Ways and Means Committee.
We have an opportunity—an opportunity to honor a living public servant—not the case of Indianapolis streets honoring Sam Jones, Tom Binford and Martin Luther King. If it is decided to permanently rename Georgia Street, let's seize this opportunity to honor one of our own.•
__________
Maurer is a shareholder in IBJ Corp., which owns Indianapolis Business Journal. His column appears every other week. To comment on this column, send e-mail to mmaurer@ibj.com.
Please enable JavaScript to view this content.