There are times when a show is diminished when produced in an intimate space. There are times when proximity accentuates and heightens the impact of a show. And there are times when both of those things happen, which makes matters complicated.
That's the case with "Spring Awakening," the Tony-Award-winning musical getting its local debut at the Phoenix Theatre through Oct. 23 (with, I'd bet, an extension, schedule permitting).
In its original Broadway production, the musical by Duncan Sheik and Steven Sater alternately seethed and exploded, capturing the passionate intensity of its young characters as they wrestled with sexual confusion, repressive adults and Latin conjugation.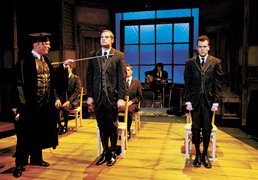 "Spring Awakening" kicked off the season for the Phoenix Theatre. (Photo/ Zach Rosing)
The 2006 musical covers much of the same tormented teen territory as the 1891 Frank Wedekind play it's based on (uncredited, as far as I can tell, in the Phoenix program). Even though the theater itself gives away most of the key plot points on its website, I'll refrain from revealing spoilers for the sake of those having the pleasure of experiencing the work for the first time—which I assume will be most members of the audience.
Suffice it to say that young Melchior is a free thinker trapped in a boys' school where rote learning is a priority. Wendla is a young woman with a limited education about where babies come from. And Moritz, he of the interesting hair, is a tormented youth with borderline grades and parents who just don't understand.
The Broadway production expertly contrasted the specific, period-set narrative and the universality of the rock/pop score. At the up-close-and-personal Phoenix Theatre, there is certainly pleasure in hearing these voices unfiltered by microphones. But without mics, the contrast between the two realities isn't so distinct.
On Broadway, a full band on stage helped the show rock out, especially in its two expletive-titled numbers. Here, with only Music Director Tim Brickley on stage, the musical power of those key moments is diminished. Over-choreography doesn't help in those moments, either, when the individualized eruptions are muted by mandated, almost robotic action. We should feel their souls on fire, not the actors trying to stay in sync with one another.
More effective is Bernie Killian's set, which effectively turns the stage into a kind of chapel. The ecclesiastic atmosphere accentuates, in different ways, a funeral and a sexual initiation or two. It also gives such songs as "Touch Me" and "The Song of Purple Summer" an added hymn-like quality that works for the overall piece.
Interestingly, it's in these and other lower-key moments that the Phoenix production shines brightest. Melchior's song near the top of the show, "All That's Known," comes through sharp and goose-bumping clear. And Wendla and Melchior's "The Word of Your Body" appropriately captures moments of awkward discovery. Director Bryan Fonseca's greatest contribution to the show may be finding actors who are skillful and experienced enough to be able to handle the material and young enough to be believable in the roles. Of particular note is Carly Kincannon, not only in lovely voice as Wendla, but truthfully performing throughout.
Still, I'm curious what newcomers to "Spring Awakening" walk away with. Seeing it at the Phoenix, I admire the show even more for the elusive imagery of its lyrics, the originality of its score, and the creativity of its structure. But I'm also now of the belief that the virtuosity of the Broadway production helped cover up some fundamental structural flaws in the show, particularly in the final 20 minutes. Those flaws are more difficult to hide in the Phoenix's ambitious, accomplished, and otherwise largely satisfying production of this groundbreaking show.
__________
Well, maybe "Spring Awakening" isn't so groundbreaking as all that.
After all, more than a century before Sheik and Sater wrote their musical of sexual anguish, Giacomo Puccini set music to the story of a 15-year-old girl whose liaison with a foreign naval officer leads her to abandon her faith, him to abandon her, her to birth a child, him to return for said child with new wife, and her to, well, I won't spoil this one for you, either (although you no doubt see or know where it's going).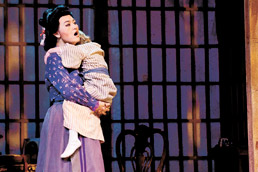 "Madama Butterfly" kicked off the season for Indianapolis Opera. (Photo/ Denis Ryan Kelly Jr.)
Indianapolis Opera offered a reverential, risk-free, musically accomplished production of "Madama Butterfly" to kick off its season Sept. 23 and 25. Some might have found it to be the same-old, same-old, but I welcomed the chance to hear the music so well performed by the Indianapolis Chamber Orchestra, to bask in the glow of Jeff Davis' lighting, and to hear and watch "Butterfly" vet Jee Hyun Lim in the title role.
I suspect I wasn't alone in my appreciation for her transformation from naïve young girl to the mess she becomes—and in wanting to slap Garrett Sorenson's milquetoast Pinkerton long before he headed back to sea.
A strong supporting cast, including Joseph Hu, Jeffrey Mattsey and Sarah Heltzel (the latter two in IO and role debuts), added to the classic's many pleasures.•
__________
This column appears weekly. Send information on upcoming arts and entertainment events to lharry@ibj.com.
Please enable JavaScript to view this content.