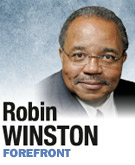 The 2012 presidential campaign is shaping up to be a battle for the Republican nomination. Two of the leading Republican candidates (Mitt Romney and Jon Huntsman) are Mormons, Rick Perry prides himself on being a born-again Christian, Rick Santorum has made strong appeals to the religious right, and the remaining contenders seek the support of evangelical Christians.
Meanwhile, President Obama remains true to his effective outreach to strong evangelical supporters in the Democratic base and steadfastly works to appeal to voters in the ideological center, many of whom have issues other than religious beliefs as their selection criteria for the next president. I still believe his strategy is a formula for success on Election Day in 2012.
The inauguration ceremonies in 2013 will include "so help me God" at the end of the official oath of office declaration. This is part of the inaugural tradition.
I believe it is even more.
Religion and politics mesh on a daily basis. While those strict constitutionalists will argue that religion is part of American values (e.g., "In God We Trust" on our currency, "One Nation Under God" in the Pledge of Allegiance), I believe it is incumbent upon all of us to ensure that a true separation of church and state exists.
In our country, there is no predominant religion. Imagine how we would feel if we had to adhere to one particular teaching and philosophy. It would not work and our country would be even more divided.
So, what is the role of religion and politics?
Religion has a role in politics. It can provide the civility that is missing from today's campaigns. As October approaches, we will be constantly pounded by negative messages from both sides. Both will use media, direct mail and phone calls with messages that highlight the foibles of their opponent. If the civility that we are taught via religion and reinforced in our beliefs were present in campaigns, the tone would be different.
Religion has a role in shaping public policy. We are indeed our brothers' keepers. We are responsible for assisting those who live in the shadows of life. We must offer a hand up to those who need help. Many of us are blessed and we have a responsibility to make a difference. The underpinnings of these thoughts are formed from our religious beliefs, not from political campaigns.
Faith-based organizations can augment the role of government. Those who attend our faith-based institutions assist those who are less fortunate or, because of budget cuts, cannot receive support from government. Whether it is offering clothes via a clothes closet, assisting with food distribution, or helping those afflicted by drug or alcohol abuse, religious institutions have often been the last resort for help.
Those who belong to faith-based institutions should participate in religion and politics. In short, we have a responsibility to vote. As part of that responsibility, we should support candidates who best represent our values of fairness. We must ensure that those supposed leaders of the "religious right" are not given carte blanche to express their views as if they are the titular heads of government. They are not.
There is no Religious Party of America. Democrats, Republicans and independents do not have purview over religious thought in our country.
I still believe individuals control their religious and faith decisions. In our private hours, we decide how best to vote for those who will protect all of our rights. In our private hours, we say the prayers that are kept deepest in our heart.
For those who believe religion has no role in politics, I challenge them to measure the impact of Dr. Martin Luther King Jr. Imagine what our country would be like today if he had decided religion had no place in politics. If he had, I doubt I would be writing to you today as the former chairman of the Indiana Democratic Party.•
__________
Winston is president of Winston/Terrell Group, an Indianapolis-based government affairs, public outreach and community relations firm. He was chairman of the Indiana Democratic Party from 1999-2001. Send comments on this column to ibjedit@ibj.com.
Please enable JavaScript to view this content.