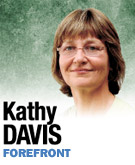 I vote yes. Candidates for mayor of Indianapolis should talk about education. They should talk about it, and keep talking about it, until we all know what to do.
Education will either get us there or leave us lacking. Indianapolis schools will attract leaders, hard workers and innovators with children or discourage them from staying or moving here. Good performance from students is a goal to pursue with urgency. The impact on our economy of having skills, or not, is critical.
The longer we do less, the longer it takes to turn the ship. Candidates for mayor should talk about education.
Why talk if the mayor is not in charge of schools? She or he runs city government—police and fire protection, streets and sidewalks, how we use land, our parks, but not the schools. School boards run schools.
But the mayor helps us envision what makes Indianapolis prosper. The mayor leads the talk about our goals, plans and actions. The mayor sets a tone—doing the right thing, knowing what our citizens need and hustling for results. Working with every partner and using every resource like there is no time to lose and not a dollar to waste.
A big part of our prosperity is education. The mayor doesn't have to run schools to influence education. The mayor can mobilize a city to demand—and deliver—better results for children.
Success takes many factors. Students need a home, food and safety; the ability to get to work and school. It takes engagement and curriculum and masterful teachers. When all these factors come together, including the parts run by the mayor and those that aren't, the better we do. No one is in a better position to lead this charge than the mayor.
We have been working on education from the outside in, creating more choices of schools. Many have lost confidence that the big public system, where most kids go to school, can change. And yet it must. How will we do it?
Melina Kennedy proposed allocating a portion of the water company sale to early education. Research consistently shows that early education is our best long-term investment.
Mayor Ballard proposed incentives for charter schools and not-for-profits in education reform. His lead proposal was an income tax credit for not-for-profits in education reform that locate in Indianapolis.
Ballard may have been in a rush to offer an education policy. He seems unfamiliar with not-for-profit organizations and economic development, offering an income tax credit to organizations that don't pay income tax.
When his mistake was highlighted, he retrofitted his tax credit into a new hiring incentive. Convoluted after-fixes are one of the things we don't want government to do. How long before relocated organizations help raise our game?
Indianapolis not-for-profits are partners today with public schools and families—advocating for children, convening collaborators around good information and developing methods. Giving service and raising spirits.
My daughter is a junior in the math/science magnet at Arsenal Technical High School. Shepherd Community Center runs after-school programs and graduation coaching, and gives transportation to student events. Shepherd is the fiscal agent and glue for an effort to send Tech's band to march in the 70th anniversary parade at Pearl Harbor this December.
The extraordinary Indianapolis arts community and many not-for-profits joined Shepherd to make this trip happen. The plan is to connect students with school and learning through arts, first representing Indianapolis in this historic event and then for more students long after the trip is over. Maybe you support the Shepherd Tech Arts Resource Team.
Changing a big system requires tipping points. Multiple forces have to come together to make a new wave. We as individual citizens and our groups are those forces. The mayor can bring us together.
The Department of Education reports IPS graduation rate at 63 percent in 2010, up from 42 percent in 2008. Big jump and a good thing. What now? The mayor must lead on education.•
__________
Davis is a former Indiana lieutenant governor who owns and operates the Indianapolis technology firm Davis Design Group LLC. Send comments on this column to ibjedit@ibj.com.
Please enable JavaScript to view this content.