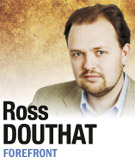 By rights, this should be the election when conservative populists, frequently thwarted and co-opted by the Republican Party's kingmakers, finally succeed in pushing an insurgent candidate to the top of the presidential ticket. Between the zeal of the Tea Party, the unlovability of Mitt Romney and the widespread hatred of all things Washington, there's never been a better time to run against the Republican establishment and win.
But Sarah Palin's act grew tiresome, Mike Huckabee stuck with television, the Donald Trump bubble came and went, and Tim Pawlenty spent months running for president without anybody noticing. This left Michele Bachmann as the leading populist alternative to Romney—a status she enjoyed right up until the moment people started listening to what she was actually saying.
Rick Perry was supposed to put an end to the game of musical chairs. He was an outsider with insider connections, a populist with experience and organization, a successful governor whose anti-Washington persona guaranteed him credibility with the conservative grass roots.
But then came Perry's performance in the last two Republican debates. The Texas governor mangled his attack lines, lost the thread of his arguments and accused rank-and-file conservatives of heartlessness on immigration. He's lost a large chunk of his initial support to yet another potential populist standard-bearer—pizza mogul Herman Cain.
This cycle of populist disappointment has probably raised the Republican Party's odds of taking the White House in 2012, by making a swift coronation for Romney more and more likely. But Republican primary voters deserve a better class of right-wing populist, and the country does, as well.
In many ways, the ideological divisions between populist and establishment Republicans have narrowed since the days of Ronald Reagan and Gerald Ford. Today's intra-Republican battles often revolve more around style than substance, pitting Wasilla against Wall Street, Paint Creek against Harvard Business School, the uncompromising purity of the talk-radio dial against the deal-making required to govern.
But amid the bombast and identity politics, it's still possible to discern a serious populist critique of how the Republican establishment does business—one that links Pat Buchanan's primary campaigns in the 1990s to figures like Palin, Huckabee, Cain and Ron Paul today.
This critique accuses the Republican leadership of being too cavalier about illegal immigration, too forgiving of crony capitalism and Wall Street-Washington coziness, too promiscuous with overseas military interventions, and too willing to imitate Democrats and centralize power in Washington. Right-wing populists tend to argue that Beltway Republicans have lost touch with the party's core ies: small-business owners, middle-class families and Main Street, USA.
These arguments often have merit. The trouble is that, having identified important problems, right-wing populists almost inevitably rally to unworkable solutions.
The populist "answers" to middle-class economic anxieties, for instance, are usually gimmicks that would make the problem worse: Buchanan's post-Cold War case for protectionism; Huckabee's zeal for the so-called Fair Tax; Paul's call for a return to the gold standard; Cain's budget-busting "9-9-9" plan for tax reform.
The populist "answer" to the growth of federal power is usually a rote invocation of the 10th Amendment, with little detail on how it should actually be applied. And at least during the debt ceiling debate, the populist "answer" to Wall Street's influence in Washington was to refuse to pay the country's debts.
These policy failures have been exacerbated by the weird celebrity culture Fox News creates around conservative politicians, which can make Republican presidential campaigns feel like cable news auditions. Thanks to Roger Ailes' network, the right's populist folk heroes have career incentives to choose superficiality over substance—the better to follow in Huckabee's and Palin's footsteps, and segue into a career as host of "Bachmann Overdrive" or "9-9-9 at 9."
This is the irony of Fox's impact on Republican politics. In a sense, the network's shows have given right-wing populism a larger megaphone than it's ever had before. But by turning populism into mass entertainment, they've made it less and less likely that a conservative populist will ever actually deserve to win.•
__________
Douthat is a New York Times op-ed columnist. Send comments on this column to ibjedit@ibj.com.
Please enable JavaScript to view this content.