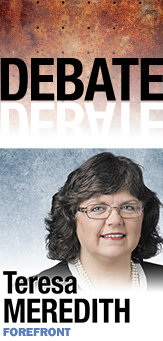 Question: In training future teachers, should the focus be on traditional university schools of education or on such alternatives as The New Teacher Project and the Woodrow Wilson Teaching Fellowship?
Answer: Despite the expansion of new routes into teaching through programs like Teach For America, The New Teacher Project or the Woodrow Wilson Teaching Fellowship, there is little research to guide the effectiveness of teacher training strategies.
For years, new teachers have passed through schools of education and were hired to teach in Indiana. Most followed the traditional route to certification programs, in which they completed all their requirements before beginning to teach. Which route into teaching is best?
As my own journey into the field of education began, teacher training was different, schools were different, and students were different than they are today. Technology has changed the way the world absorbs knowledge. Schools of education have moved with the changes, but one constant remains with traditional teacher preparation.
Teachers trained through conventional programs are not just experts in a select field; they are trained in child psychology, child development and in methods to help children understand the material. Educators coming to the classroom from a non-traditional path might be an expert in their field, but they have no training in the art of educating students.
Certain elements of my own journey still hold true, one being the belief of a multi-tiered process.
The first tier—beginning years of education and practice—is exciting and filled with great hope and enthusiasm. I welcomed the gentle guidance of those experienced educators who watched over my early days.
My years of study balanced well with my time spent in a dynamic classroom. I cannot imagine walking into a classroom without the alignment of background theory training and hands-on, in-the-classroom, keep-things-under-control training.
My next tier of training includes my years of service. Even after 20 years in the classroom, not a year goes by that I do not gain insight from a student, a professional development opportunity or from a colleague in the classroom next door. The careful watch of an experienced teacher has proven to be invaluable to me as an early educator—and still holds true today.
Schools of education embrace this multi-tiered approach and the importance of real-life classroom management.
Indiana State University started a program several years ago called Teachers of Tomorrow Advancing Learning that extends services and partnerships from the university to K-12 schools. Interns take their core methods classes on campus, then spend time with a master teacher who is designated as a coaching teacher. The intern performs many of the duties of a teaching assistant and gradually assumes more responsibility for teaching and behavior management.
Broadening the clinical experiences of pre-service teachers enables them to see the connection between the theories and methods they learn in class and what is happening in the classroom. Future teachers who have been immersed in a classroom environment are more confident when they begin student teaching.
Do we really want alternative paths into the profession of teaching?
Alternative programs suggest there is a need for talented new teachers. In most subject areas in Indiana, there is limited, if any, shortage, as thousands of new, talented teachers are licensed each year to fill only a few open positions.
The foundation of everything in life is education. The future of every other profession depends on it. Would we dare create a shortcut to being a doctor or lawyer?
As I travel the state, I see that the strongest and most talented educators are the ones who demonstrate an effective balance of theory, practice and experience. Indiana's children deserve no less.•
__________
Meredith is vice president of the Indiana State Teachers Association and has taught for more than 18 years in Indiana schools. Send comments on this column to ibjedit@ibj.com.
Please enable JavaScript to view this content.