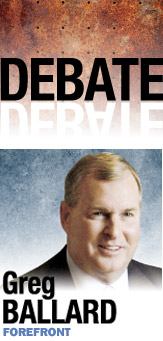 Question: "How would you describe race relations in Indianapolis?"
Answer: Indianapolis is a multicultural city, and that is one of our many strengths. I am proud of our diversity and I am committed to supporting it. My wife, Winnie, was born and raised in the Philippines, and we have raised a diverse family. It is important to me that Indianapolis is a city where families such as ours are welcome and feel at home.
Since 2008, we have emphasized improving opportunities and quality of life for all residents. Our city's growing population includes many African-Americans, Latinos, Chinese, Indians, Burmese and more. We celebrate our multiculturalism and take a global approach.
Across our neighborhoods, in our many cultural festivals and events, in business and in government, we must continue to celebrate the diverse population who call Indianapolis home.
Coming together as a community that respects and celebrates multiculturalism is critical to the future of our city. Job creation, retention and growth depend on it. Our pursuit of national and international business for local economic development is enhanced by our welcoming and inclusive community.
We now have eight sister cities across the world, including those in Brazil, China, India and the United Kingdom. We also have hosted 75 international delegations to our city.
Under my leadership, city government has taken action to not only celebrate the diverse nature of our community, but also to protect it.
When I took office, I was shocked to find a backlog of over 200 equal-opportunity claims, some dating back to 2003. In the prior administration, the average turnaround time for processing claims exceeded 700 days. I ordered immediate action. We eliminated the backlog of discrimination claims and we instituted a better system, which has reduced our average resolution time to 100 days.
A top priority is to provide economic opportunity for all businesses in our city. We increased the amount of city work for minority-owned businesses from $15.5 million in 2007 to more than $90 million in 2010.
We must be willing to lead by example and to ensure that the diverse voices of our community are represented in our government. As of last year, over one-third of all mayoral appointees to city boards and commissions were represented by minorities.
It is also important to have a public safety team whose diversity reflects that of the community it serves. Under my leadership, we created a Diversity Task Force for Public Safety to make recommendations for increasing diversity in the ranks. The task force includes members from the Urban League, Concerned Clergy and community leaders. With their help, we are transforming existing processes to ensure our public safety employees are the best we can find—and that they represent our community.
We are making significant improvements throughout our city, including many diverse neighborhoods, pools and parks that had been neglected for far too long. Communities like Martindale-Brightwood are now seeing a record number of broken sidewalks repaired, streets resurfaced, alleys repaved, and abandoned buildings torn down. These projects bring new hope to the neighborhood.
In our recent transformation of Dr. Martin Luther King Jr. Street, we partnered with neighborhood leaders to make improvements, incorporating features into landmarks honoring King and legends of the local African-American community. This meaningful undertaking not only revitalizes the neighborhood but also brought special recognition to King at a celebration with his son, Martin Luther King III, who said Indianapolis is now the model.
These are just a few of many examples of action I have taken to honor our diversity. Having traveled across the world as a Marine, I know how special Indianapolis is. As mayor, I will continue to work to strengthen our place in the world.•
__________
Ballard, a Republican, is mayor of Indianapolis. Send comments on this column to ibjedit@ibj.com.
Please enable JavaScript to view this content.