With over 100 films being screened at this year's Heartland Film Festival, I hope you'll forgive me for not being able to provide an exhaustive guide to all its hits and misses.
Instead, this year I took a different approach. With a stack of review screeners arriving close to my deadline, I gave each available film 15 minutes. If it grabbed me, I stuck with it. If it didn't, I replaced it with the next in the pile. There may be some brilliant late bloomers in my reject stack, but that's the price to find, in a relatively short time, some strong entries to recommend to you.
"Elevate"
My lack of knowledge of college basketball players actually helped accentuate the drama in this accomplished documentary about four West African teenagers attempting to score basketball scholarships in the United States. Combining aspects of the standard sports film with fish-out-of-water detail, the film does only an adequate job of making the personalities pop, but it does brim with real-life plot twists that keep the uplifting stories from feeling too sanctimonious.
"The Hammer"
OK, so there's no official Heartland category for based-on-a-true-story, overcoming-the-odds sports flick, but if there were, here would be this year's worthy entry.
It's the story of wrestler Matt Hamill. If you haven't heard of him, I won't spoil the film by outlining his achievements. I will say, though, that what makes this one transcend its sports movie clichés (will his girlfriend show up for the big match?!) is its creative use of subtitles that reveal—and hide—what Hamill can and can't lip-read or interpret from his limited understanding of sign language.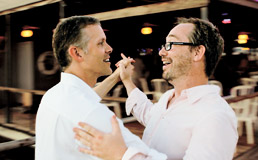 "An Ordinary Family" (Photo Courtesy Matter Media Studios)
"An Ordinary Family"
I had to double-check the disc to make sure there wasn't a mistake after watching this effective look at a sibling family vacation made
complicated by a brother's surprise guest. Yes, its gay guess-who's-coming-to-dinner plot might have been more groundbreaking 15 years ago, but this is a big step into this century for the Heartland Film Festival, where homosexual characters have been a rarity.
What makes this one a winner, though, isn't its core story, but the nuanced acting work that far exceeds the typical independent ensemble film. The affection and history these folks share is palpable.
"Janie Jones" (Photo Courtesy Heartland Film Festival)
"Janie Jones" and "A Buddy Story"
I'm pairing these because, coincidentally, they both involve road musicians reluctantly joined by young women who change their lives (and can sing duets).
In the first case, a road-hardened rocker gets a surprise backstage visit from an ex-groupie, who hands off the-daughter-he-never-knew-he-had while she goes into rehab. Not much new territory is traveled, but strong performances from leads Abigail Breslin, Alessandro Nivola and Elisabeth Shue and the supporting company help create a truthful atmosphere that freshens the tale. Solid musicianship helps considerably.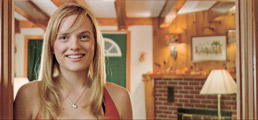 "A Buddy Story" (Photo Courtesy Heartland Film Festival)
Atmosphere is key, too, in "A Buddy Story," where our sad-sack hero (an unfortunate staple in low-budget independent films) does time playing the community center/bookstore circuit. A down-on-her-romantic-luck neighbor joins him and we know where it's going, although Elisabeth Moss (of "Mad Men" fame) helps make the ride worth taking. The filmmakers here are less ambitious than those of "Janie Jones," often going for the easy laugh and having trouble finding reasons for the couple not to get together. But there are pleasures to be had—and theater vet Dick Latessa has some fun moments as the singer's advice-giving grandpa.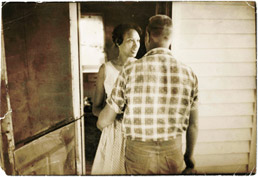 "The Loving Story" ( Photo/Grey Villet)
"The Loving Story"
There's a unique thrill to watching a documentary where you think you know everything in the first 10 minutes but which nonetheless continues to engage, enrich and surprise. Such is the case with this account of the Supreme Court battle waged on behalf of Richard and Mildred Loving, a couple arrested and exiled from Virginia because of their interracial marriage. The filmmakers smartly set a slow and steady pace early, allowing the film to reflect the personalities of the inadvertent groundbreakers at its core.
"Romantics Anonymous"
She's a shy chocolate maker. He's the owner of a candy factory in decline. And this shameless but fun confection throws them together in fairly predictable ways. It's the odd pairing of Benoit Poelvoorde and Isabelle Carre and the stylish production that give the French film its charm.
__________
Some fellow IBJ staff members took a look at some of the screeners I couldn't get to. They took the same approach—ejecting a film if, after 15 minutes, it didn't demand attention.
J.K. Wall, whose reportorial beats here include education, took a look at the charter school documentary "Facing Forward."
"It lacks the slickness of, say, 'Waiting for Superman' (poorer camera/lighting work and a weak story structure that starts out about a charter school but morphs into a story about one particular student at the school)," Wall said. "However, with those caveats, it is worth recommending."
IBJ photographer Perry Reichanadter was impressed with "Where Soldiers Come From," a documentary about friends in a small Michigan town who join the military together. "The movie effectively shows the innocence before these young men are deployed and the struggles they go through when they get back."
Copy editor (and accomplished poet) Bonnie Maurer screened the documentary "Crime After Crime," finding the story of a battered woman incarcerated unjustly for 20 years—and the lawyers who stuck with her case—"a powerful and emotional miscarriage-of-justice story well beyond the standard journalistic approach to such a subject. I was invested not just in the victim's story, but also in the lives and devotion of the pro bono legal team."
That's just the beginning. The Heartland Film Festival opens Oct. 13 and runs through the 22nd. Visit www.heartlandfilmfestival.org for a full schedule.•
__________
And I haven't stopped watching, of course. Look for more comments on Lou Harry's A&E blog at www.ibj.com/arts.
Please enable JavaScript to view this content.