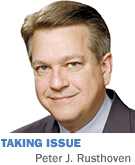 This year's Indianapolis mayoral election presents a sharp contrast between a "good candidate" (attorney Melina Kennedy) and a good mayor (ex-Marine Greg Ballard).
Ballard's 2007 election was a surprise to all but him. He has proven quite effective—a friendly, no-nonsense leader who enjoys the work and responsibilities but can do without the glitz.
Ballard's accomplishments reflect his business-like focus. Inheriting a consent decree with the EPA on the city's sewage overflow problem, he initiated negotiations that reduced compliance costs $740 million. By transferring the water company to Citizens Energy, he obtained hundreds of millions for infrastructure improvements without tax hikes.
Endorsed last time by the Fraternal Order of Police, Ballard insisted on higher standards and training for officers. He issued forceful reprimands after the recent incident in which an apparently intoxicated officer was involved in a traffic fatality. One suspects this cost Ballard the 2011 FOP endorsement. One can be certain Ballard couldn't care less about this when it comes to doing what he believes right.
Ballard kept his word on the property tax issue that swept him into office. Pledging to fight for meaningful reform, Ballard was one of only two mayors to support the constitutional property tax caps Hoosiers approved last November.
Kennedy now runs 15-second ads saying Ballard "raised over 140 taxes." These involve things like parking meter charges and a 2010 council ordinance updating some 130 business permit fees (including fines for code violations, a "tax" in Kennedy's lexicon). Kennedy avoids the elephant in the room on the tax that matters most. Today, 98 percent of Indianapolis homeowners have property taxes that are dramatically lower (by about a third).
The contrast between rhetoric and substance is clearest in Kennedy's "education reform" theme. One remembers Evan Bayh's maiden political voyage, also featuring ads that "polled well" (there, "license branch reform") in seeking an office with almost nothing to do with the issue (in Bayh's case, secretary of state).
Indianapolis mayors have almost no power over education. The exception is charter schools, on which Ballard has shown aggressive leadership in expanding education alternatives for children who most need them. Meanwhile, Kennedy was silent when Republicans in the 2011 Legislature pushed for more charter school reform, and Democrats absconded to Illinois to stop it.
Ballard has also pushed to take over failing Indianapolis public schools, putting him in a friendly debate with state Superintendent of Public Instruction Tony Bennett. Kennedy is silent.
Rather than advancing discomfiting specifics, Kennedy pledges on her website to be "deeply engaged in the education of our children and seek long-term solutions," to "take an active role and become a full partner in improving the quality of all our public schools," and "to help thriving schools maintain their successes while, at the same time, identifying and advocating for solutions to help reform our struggling schools."
Kennedy is likable and smart. She has "presence," a sincere demeanor, and extemporaneous rhetorical facility. She is a glib, polished candidate. All this has some commentators on the local political scene all-a-gush about her candidacy.
This author demurs, and not just because he's Republican. What matters far more are character and substance and sticking to task, doing what's right and getting the job done without worrying about public spin and credit.
This is second nature to Ballard as to most Marines, veterans of a corps in which results and responsibility count and "talking good" really doesn't. Speaking as someone who knows plenty of good-talking lawyers, I'd stick with the Marine who's shown he can do the job.•
__________
Rusthoven, an Indianapolis attorney and graduate of Harvard College and Harvard Law School, was associate counsel to President Reagan.
Please enable JavaScript to view this content.