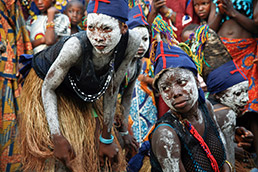 'Fambul Tok' (Photo/Sara Terry)
Last week, I recommended a stack of Heartland Film Festival offerings from among those I sneak-previewed (click here for a look).

But just because the fest has been up and running since Oct. 13 doesn't mean I've stopped filtering the flicks, the better to steer you toward some winners.
To that end, I'll save the space by skipping the ones I ejected after 15 minutes and, instead, keep my focus on some winners that I couldn't fit in last week.
'Fambul Tok'
Brace yourself for this documentary specifically about the aftermath of the wars in Sierra Leone but, at the same time, about very different approaches to forgiveness, redemption and reconciliation.
In that troubled African country, amnesty of war criminals made it commonplace for victims to be living side by side with those who committed atrocities. Part of the solution: Fambul Tok. Basically, that means a community gathering around a bonfire in which honest forgiveness is sought—and often given—in an effort not to ignore the past but to move forward from it. The specific stories are heart-wrenching, but the results remarkably hopeful.
'My Last Day Without You'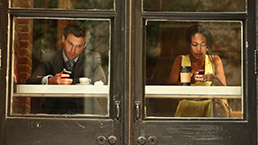 'My Last Day Without You' (Photo Courtesy Heartland Film Festival)
What starts off looking like an "Up in the Air" knock-off soon becomes a charming, light, romantic comedy/drama featuring a pair of original leads and strong supporting performances. He's a German businessman on a one-day trip to the United States to lay off an entire division of a company. She's a preacher's daughter musician with a practical streak. And, yes, sparks fly. But interesting ones.
It's tough to pull off a contemporary whirlwind romance where both the sexual and romantic attraction are viable. It's also tricky to create an interracial romance where race doesn't become the focus and, at the same time, isn't ignored. This film does both in smooth, commercial style. And you could well be seeing a star-in-the-making in stunning but very human lead actress Nicole Beharie.
'The Selling'
OK, I have absolutely no idea what this one is doing in the Heartland Film Festival. And I almost skipped it completely based on the cheesiness of the film's poster. So maybe surprise is a factor in the kick I got from this low-budget horror comedy with a lot of genuine laughs and scares without ever touching the R-rating border. A real estate agent tries to unload a haunted house, the resident spirits aren't happy about that, and hijinks result.
Abbot and Costello would be proud.•
Please enable JavaScript to view this content.