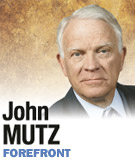 Mayor Greg Ballard was not an experienced officeholder before he took office, but he has shown a unique ability to solve knotty problems, which is a genuine test of leadership under fire.
Those of us who have been involved in politics and government in our city and state for decades have seen tremendous examples of leadership. Whether it was the creation of Unigov, the building of the Hoosier Dome, or recent education reforms, our leaders have consistently shown a remarkable willingness to build consensus and craft solutions that benefit not only the here and now, but also future generations.
There is no better example of courageous leadership in the past four years than Ballard's handling of the financial crisis facing the Capital Improvement Board. He was not mayor when Conseco Fieldhouse was built nor when Lucas Oil Stadium was conceived and constructed. In the case of both projects, however, he inherited significant financial challenges.
Respected financial rating and oversight agencies defined CIB as broke and possibly not a "going concern." A bond swap entered into by the Peterson administration went the wrong way and cost taxpayers $22 million. Lucas Oil Stadium was built with no monies budgeted by the city for operating costs. The Indiana Convention Center was doubled in size with virtually no increase in the budget for marketing it to new users.
This mayor, this Marine, didn't blink. He didn't play the ever-popular political blame game. Instead, he resolved to protect the tens of thousands of jobs that exist because of the activities in these buildings.
He moved CIB to the city's insurance plan and installed a different administrator for CIB's 401(k) plan. Each of these moves saved taxpayers hundreds of thousands of dollars each year.
CIB also avoided a debt service reserve issue that could have cost $26.3 million. By working with the state and city bond bank, CIB settled the issue for only $1 million.
Finally, while the credit ratings for agencies across the country were being downgraded (thus costing taxpayers even more money to operate), the mayor's fiscal leadership has led to an A+ bond rating from Moody's and an A rating and "stable" outlook from Standard & Poor's.
These ratings from third-party observers and experts are increasingly important as we continue to live and work in turbulent and uncompromising political times. Why is all this important? It's simple really—without our tourism and sports activities, we would be facing a fiscal and financial meltdown far worse than anything we've experienced during the recent recession. The economic impact of the sports and convention activities in our city is undeniable, and the numbers tell the story.
Tourism in central Indiana generates $3.6 billion in economic activity and affects roughly 69,000 jobs in the hospitality business. Additionally, Lucas Oil Stadium, the JW Marriott, and the expansion of the convention center created over 3,000 jobs. Furthermore, the events in the buildings managed by CIB generate over $78 million in tax revenue annually. Without these funds, an already tight budget would strangle certain vital public services.
Our city was built because of strong, visionary leadership from mayors like Lugar, Hudnut, Goldsmith and Peterson. It has become the shining star of the Midwest because our leaders possessed the courage to build for the future and meet our tough challenges head-on without flinching.
Our city's current leader is no exception. Ballard ran for mayor because he stated plainly that Indianapolis needed new leadership. He won the race because people believed he could provide it.
And from issues like reducing crime, securing thousands of jobs, rebuilding our neighborhoods and protecting the economic engine of Indianapolis, Ballard has done just that. He has provided the leadership our citizens have come to expect from their mayor, and, for this reason and others, deserves another term as our mayor.•
__________
Mutz has held leadership positions including lieutenant governor and president of Lilly Endowment and PSI Energy. Send comments on this column to ibjedit@ibj.com.
Please enable JavaScript to view this content.