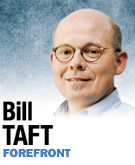 The mayor of Indianapolis routinely faces challenges like combating crime, brokering political compromises and stretching shrinking revenue to pay for routine services people seldom notice.
Now the changing dynamics of regional growth present a big new job—recruiter-in-chief for city living. This role is critical for Indianapolis because its 4-percent population growth from 2000 to 2010 trailed well behind central Indiana's robust 15.2-percent growth.
The county is particularly slipping in its relative wealth, with rapidly growing numbers of poor residents and a shrinking base of middle- and upper-income citizens. Growth is largely occurring in the suburban counties, leaving Indianapolis with rising costs and a smaller tax base to pay them.
Indianapolis must develop strategies to compete with surrounding counties to retain and attract higher-wage residents if it is to maintain a high quality of life for all its residents and continue to be the engine of economic opportunity for the entire region.
The Indianapolis metro area has grown into one of the most economically competitive cities in the Midwest. Its strength is increasingly based on skills of knowledge workers employed in sectors such as life sciences, IT and advanced manufacturing/logistics.
Unfortunately, the actual city of Indianapolis has not kept pace with this regional growth of educated workers. While our college-graduate level trails the region by 3 percent (27 percent), this number barely grew (1.25 percent) in the past decade.
Between the slowing growth rate and dramatic decline in the attraction of college graduates, it is clear Indianapolis could become a core of unskilled, low-wage earners in a region of knowledge workers.
While improving the quality of our schools is obviously of fundamental importance, college graduates will be retained and attracted to the city only if its neighborhoods are appealing places to live. Since surrounding counties are cheaper and easier to live in, the city must offer neighborhoods with unique features suburbs don't have.
College graduates are increasingly interested in living in places that are walkable, environmentally sustainable, architecturally interesting, diverse and near unique entertainment and cultural attractions. Indianapolis boasts such features, but it has not focused sufficiently on meeting the other livability requirements of educated residents. The 10,000 vacant homes in our older neighborhoods and the 67-percent decline in Center Township's population since 1950 illustrate that we have failed to make our core neighborhoods attractive to our growing regional population.
Indianapolis desperately needs middle-class knowledge workers to make their home here to pay taxes, launch new businesses, engage with its school districts, shop at its retailers, and bring leadership to community organizations.
Fortunately, Indianapolis has demonstrated that it can rebuild its urban neighborhoods into attractive places. Starting in the 1980s, the city began providing modest support for reinvestment in the downtown historic districts and individuals responded by purchasing hundreds of deteriorated homes and making them into historic gems.
Fall Creek Place transformed "Dodge City" into a mixed-income showplace. Grass-roots efforts have transformed Fountain Square into a cultural attraction. The Near East Side's Quality of Life Plan attracted a partnership with the Super Bowl Host Committee that has generated more than $120 million in investment over three years.
Successfully transforming urban neighborhoods into magnets for college graduates will take strong political leadership from the mayor, but will also require support from county and state elected officials. This kind of bipartisan effort turned our once-dormant downtown into the most vibrant second-tier city center in the Midwest. Mayor William Hudnut masterfully aligned politicians, business leaders and the general public to support downtown revitalization for the good of the region.
Now we need to marshal a similar level of collaborative investment around remaking and marketing our core neighborhoods as vibrant communities attractive to the educated citizens who will drive the future prosperity of the city.•
__________
Taft is Indianapolis executive director of Local Initiatives Support Corp., a not-for-profit that invests in neighborhood redevelopment projects. Send comments on this column to ibjedit@ibj.com.
Please enable JavaScript to view this content.