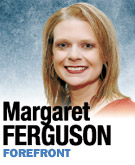 I recently visited a high school government class at the invitation of a former student to talk about the Electoral College. The students listened attentively and asked probing questions. They, like many of my college students, were perplexed by my assertion that the United States is a two-party political system. And that it is a good thing.
Is the system rigged to ensure a two-party system? Yes, in fact it is. Electoral rules in the nation and Indiana essentially guarantee that we will have two parties. We of course haven't always had (nor will we necessarily in the future have) these two parties. But we have two.
The political scientist in me takes comfort in the stability that arises from such a system. While I argue that our parties are so broad-based that there is room for everyone in their ranks, students often view this as watering down political values, limiting the arena for political debate, and preventing certain ideas from being heard at all.
They have a point. In a party in which organized labor, Southern whites, African-Americans and New England liberals can coexist (aka the New Deal coalition), what does it really mean to be a Democrat? Fundamentalist Christians and fiscal conservatives are equally strange bedfellows in the Republican Party.
If these young skeptics are correct, what is to be expected for the future of our politics? A third party? A fourth and fifth?
This is easy. There is no room in our political system for additional parties, since coming in second or third or fourth nets you exactly zero seats in Congress or the Indiana General Assembly.
Perhaps this explains the advent of the Tea Party and now Occupy Wall Street. Both are potential forces in Indiana politics. The effect of the Tea Party is already being felt here. Sen. Richard Lugar faces a Tea-Party-backed opponent in his upcoming primary. And Indianapolis has now been the location of an Occupy protest.
The name notwithstanding, neither of these forces is a party per se. While their goals differ, they have various things in common. They lack clear organizational structure. It is difficult to characterize what they actually stand for, and they lack a designated, widely agreed-upon leader.
But they aren't necessarily a bad thing for our democracy. And they may change the shape of Indiana politics in the upcoming elections.
It remains to be seen if Occupy Indianapolis will become a political force in Indiana as the Tea Party movement has done. If it does, it will likely attempt to influence the choice of candidates within the Democratic Party much as the Tea Party has taken up residence (however uncomfortably) within the Republican Party.
I find myself (supporter of the two-party system that I am) a bit encouraged by the take-to-the-streets mentality of these movements. There is certainly precedent to predict that these movements might matter. The Civil Rights movement for African-Americans ultimately led to a reformulation of the national parties' positions. The women's movement similarly forced the parties to take positions on the rights of half the population.
People turn to movements when the establishment doesn't seem to be listening. Granted, those who join movements are not necessarily representative of the "typical" American or Hoosier who, let's face it, isn't likely to camp out all night at the Statehouse for a cause. But they do give voice to those who feel disenfranchised.
Even if they get co-opted by the major parties and even if they cause the powers that be within those parties untold headaches, they are a sign that our democracy is alive and well. One hopes that they work to bring people together (as politics does at its best) rather than further dividing us.
But someone really does need to speak for the 99 percent. Whether either of the movements of today can do that remains to be seen.•
__________
Ferguson is an associate professor of political science in the School of Liberal Arts at IUPUI with expertise in state politics. Views expressed here are the writer's. Send comments on this column to ibjedit@ibj.com.
Please enable JavaScript to view this content.