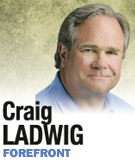 When the Indiana State Supreme Court behaves as a micro legislature, setting aside rule of law to pursue its notion of the sublime, it opens itself to political criticism—and here comes some on the issue of property rights.
In a myopic ruling in Siwinski v. the town of Ogden Dunes, Justice Steven David led the court in deciding that homeowners couldn't lease their property even short term if located in an area zoned for single-family residences.
David, you will recall, was the Mitch Daniels appointee who led the majority in arguing that Hoosiers had no right to resist police entering their homes, even if that entry was later determined unlawful.
It is not hyperbolic, then, to argue there is a tendency on this court to treat private property as a mere abstraction. For the members of this majority, property interests may rise to the level of "rights" but never absolutes. They are approached as being subject to "reasonable" regulation.
Reverse that presumption, as Daniels failed to do in his appointments, and you get a dramatically different result, one more in line with the legal formulation that made this country great and strong.
The exclusive enclave read the ordinance to mean that single-family homes couldn't be rented out for periods of fewer than even 30 days. The town considered itself sullied in the amount of $40,000, the fine it levied on Steven and Lauren Siwinski for renting their home five times. A trial court ordered them to pay up.
An appellate court unanimously found the interpretation dangerously vague. The Supreme Court disagreed, with only a Bayh appointee deferring to the appellate decision, which found that the Siwinskis would be "prohibited from, and subject to substantial fines for, such things as having weekend guests or allowing family members to use the property while they were away."
To the dismay of those of us outside of Ogden Dunes now subject to this bad law, the Supreme Court ignored the appellant's summary that when a ruling on a right so critical as property is ambiguous it should be read to favor the property owner and not be extended by implication.
Investors—that is, wealth and job creators—hate such vagueness. And the Supreme Court's derogation of property rights comes as the real-estate market works to salvage the value locked in foreclosed homes by leasing them. It may be humorous that communist China earlier this month relaxed its restrictions on property ownership.
David works in the opposite direction. His position has cost Indiana residents more than can be accurately calculated in an economy where home ownership has fallen to its lowest point since the Depression.
Perhaps you think some of us lean too heavily on constitutional absolutes. But it has been repeatedly demonstrated, recently and throughout history, that the more we move economic decisions away from the rule of law and put them in the hands of men, be they zoning bureaucrats or judges, the less efficient our economy becomes.
The Ogden Dunes case sets a disturbing precedent. This GOP-nominated court majority approved a most liberal interpretation of local zoning laws. In effect, it pitched a sign at the Indiana border reading, "Don't Invest Here; Your Money's Not Safe."
And unlike the case of the lost Solyndra millions, there will be no questions from the press or any accounting of the cost. Indeed, the matter never came up during the tens of dozens of interviews organized for Daniels on his book tour.
Nonetheless, as soon as the clerk certified the court's ruling, the money quietly disappeared from the Indiana economy—poof.
But somebody will be holding a press conference, namely David, announcing his name on the 2012 ballot for retention. At that time, voters should carefully review all recent Indiana Supreme Court "opinions."
Please know that the word is used here in its political rather than legal sense.•
__________
Ladwig edits Indiana Policy Review, a quarterly journal studying local public policy. Send comments on this column to ibjedit@ibj.com.
Please enable JavaScript to view this content.