I swear this is how it happened. A colleague and I were on our way down East Street to lunch at what was to be the next in this series of reviews of en-route restaurants—that is, dining establishments that aren't really at destination locations. But, while en route to that en-route eatery, we spotted another with a "grand opening" sign out front.
Turns out the sign at Dimitri's Restaurant (4902 S. East St., 791-1118) was a few weeks old. Nonetheless, the locally owned spot just off Interstate 465 and encased in a former Denny's intrigued us with a promise of Greek, Italian … and breakfast food.
That combo quickly translated as "diner." Not "diner" as in the tin-tube clichés with gum-chewing waitresses, but "diner" as in extensive please-everyone menus, desserts in the showcase, and a pay-at-the-register exit strategy.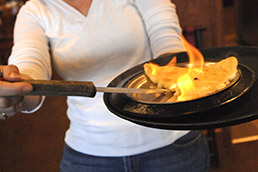 Flaming Saganaki can be followed by pasta and pie at southside newcomer Dimitri's Restaurant. (IBJ Photo/ Perry Reichanadter)
We started on the Greek side with Saganaki ($7.25) flamed tableside and served with a minimal amount of pita bread. With a crisply quick-fried exterior and mushy melted center, it was more than enough for two. Also more than enough was a cup of rich Cream of Potato Soup ($3), one of two house-made soups created each day at the whim of the kitchen.
For our entrees, we diverged. My guest went the standard diner route with a burger—in this case, the Burning Love Burger (8.25), featuring cayenne-seasoned
beef, salsa, fried jalapeno rings, pepper jack cheese, chipotle mayo and side options of lettuce, tomato and pickle. The gooey-spicy topping combo was delicious and, while it was difficult to taste the cayenne in the patty (thick and tasty, but of the pre-pressed rather than hand-formed quality), the bakery-roll bun was substantial enough to hold it all. She reports being full for the next eight hours.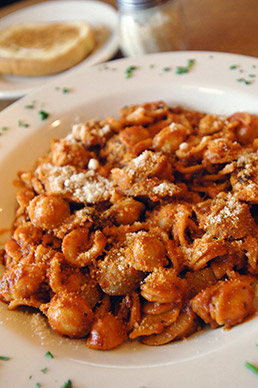 Sausage Salentino proved a highlight from the Italian side of Dimitri's menu. (IBJ Photo/ Perry Reichanadter)
I craved Italian, so dug happily into Sausage Salentino ($10.95), a hearty and seemingly endless bowl of chopped Italian sausage, orecchiette pasta (that's the curvy, ear-like, chewy one with variable thickness in each), garlic and roasted tomatoes. It demonstrated care but not pretension and I'd happily take this simple and satisfying combo over the more expensive equivalents in many a fancier Italian spot.
Desserts? We'll pass this time.
OK, maybe some cookies, to go, from the showcase.
But wait. We forgot something. What about the all-day breakfast?
In an ongoing effort at doing due diligence, I returned a few days later for a breakfast-for-lunch fix. Alas, I didn't see the fine print that stated I could have upgraded my three-egg Bacon Omelette ($7.35) with some cheese for 75 cents, which would have given it more flavor and texture. But a sizable slab of home fries sided it, along with a meal-in-itself pair of just-right buttermilk pancakes, served with a thin syrup and just a sprinkling of powdered sugar. There was no risk of going hungry … and a great chance of coming back again.
Alas, there were no cookies at the counter this time.•
–Lou Harry
__________
Fourth in our month-long series of reviews of "en-route" restaurants.
Please enable JavaScript to view this content.