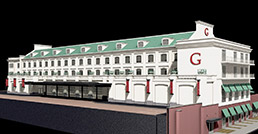 Officials with the city of Carmel and Pedcor Cos. are working on plans for a four-star boutique hotel that would be built along the Monon Trail directly east of the Palladium. (Rendering Courtesy City of Carmel)
Next up on the drawing board for Carmel's City Center: a four-star boutique hotel just across the Monon Trail from the stately Palladium.
The principal developer of City Center, Pedcor Cos., is working with city officials on plans for a hotel that likely would cost at least $32 million to build and may require an additional city subsidy.
The hotel is no sure bet, though, as hospitality financing remains scarce, the market is unproven, and the location is uncomfortably distant from major thoroughfares hoteliers traditionally require.
Carmel Mayor Jim Brainard shared a concept rendering of the hotel—which he hopes will have 160 to 200 rooms—during his State of the City address in early October.
Carmel has about 2,000 hotel rooms but none yet in City Center. The massive project features the Center for the Performing Arts, along with retail, restaurants, apartments and a handful of condos.
"Having an extra 200 hotel rooms in the center of downtown will be wonderful for this part of Carmel," Brainard said. "Even more exciting, it's a four-star luxury hotel with beautiful lobby areas, meeting rooms, all within yards of the Palladium, directly on the Monon Trail."
A tough environment for financing—even in upscale Carmel—could make the hotel a tough sell, said Rob Hunden, president of hospitality consultancy Hunden Strategic Partners in Chicago.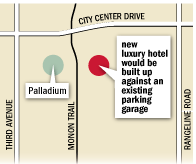 The Palladium business alone could not sustain the hotel since a high percentage of visitors are local and events aren't held every day. Hunden suggests a focus on attracting groups and a more manageable 80-room project to start.
"There's no great appetite for hotel loans these days," he said. "It's also not visible off a highway or easily accessible."
Despite a fairly soft hotel market (lodging in the Keystone at the Crossing vicinity is averaging an occupancy of 57 percent and an average daily rate of $111), a smaller hotel in City Center should be well-received, said Mike Wells, president of Indianapolis-based REI Investments, a partner in downtown's JW Marriott.
"That is a missing piece for City Center," Wells said. "It's a whole different animal (outside the normal hotel calculus)."
Carmel-based Pedcor had looked at a hotel for the site directly east of the Palladium back in 2008, but the deal fell through as the financial crisis hit.
The land, earmarked for a hotel from the earliest plans for City Center, is a priority again for Pedcor, which has been meeting with potential partners and designing plans for the project, said Steve Sturtz, president of Pedcor Design Group.
The company, which owns the land, specializes in multifamily, not hotels.
Sturtz said Pedcor has not yet lined up financing, and he declined to discuss how much the hotel would cost to build. The hotel likely would get its own name and brand, rather than carrying a chain hotel flag.
There are only a couple of four-star or higher hotels in central Indiana, including the JW Marriott, the Conrad Indianapolis and the Renaissance Indianapolis North Hotel in Carmel.
Four-star hotels can cost from $200,000 to $500,000 per room to build, Hunden said, and anything above $125,000 would require a city subsidy.
Based on the low end of the cost and room-count range, a Carmel hotel would carry a price tag of at least $32 million. Using the same figures, the required taxpayer subsidy would be about $12 million. However, some of the infrastructure that subsidies typically would cover, such as parking, already is in place at City Center.
Pedcor, which likely would develop and own the hotel, is considering whether to build the project in phases, starting with as few as 80 rooms. Some units could be built for future conversion to condos or apartments. The hotel likely would include a restaurant and perhaps other ground-floor retail.
Pedcor officials hope to break ground in 2012. The company's in-house architects are designing the hotel.
"We've got some basic concepts, but really are still in a study phase," Sturtz said.•
Please enable JavaScript to view this content.