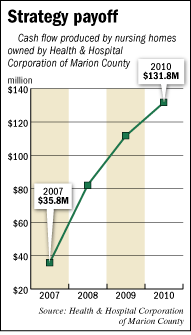 Call it the Wishard strategy.
The hospitals owned by Boone and Hamilton counties are following the lead of Indianapolis-based Wishard Health Services and its parent organization by acquiring far-flung nursing homes, hoping the strategy proves as lucrative.
Riverview Hospital in Noblesville and Witham Health Services in Lebanon each purchased four nursing homes in recent months, their first forays into long-term care.
Neither disclosed the purchase prices, but the deals have the potential to bring them substantially more money at a time their finances are under strain. That's because, since both are county-owned hospitals like Wishard, they qualify for higher federal payments through the Medicaid program.
At the same time, Riverview and Witham say they are getting into the nursing home business to improve quality in the increasingly cash-strapped industry. They also hope to get better at transitioning hospital patients to and from nursing homes—since both government and private health plans are no longer willing to pay when botched transitions put patients back in the hospital a second time.
"The focus is on quality," Bob Brandenburg, an accountant at the Indianapolis office of BKD LLP, said of Riverview's and Witham's nursing home gambit. But, he added, "The extra money that's out there is the elephant in the room."
Officials from Witham and Riverview would answer questions about the transactions only by e-mail, and both hospitals sidestepped the issue of finances.
"At this point, we have received no payments so cannot address any revenue that may or may not be received," wrote Riverview spokeswoman Sarah Estell.
Ray Ingaham, CEO of Witham, wrote: "This extension into the operation of nursing homes is intended to enhance overall quality of care at both the hospital and nursing home by focusing specifically on quality indicators for both service providers and on funding initiatives."
How much funding there is to be gained is not clear. But Wishard's parent organization, Health & Hospital Corporation of Marion County, generated cash flow of $131 million in 2010 from the 44 nursing homes it operated.
Health & Hospital Corp. invests a good amount of that money to improve the facilities and staffs at its nursing homes, said Matt Gutwein, CEO of Health & Hospital Corp. But he also acknowledges that the nursing homes have helped Health & Hospital Corp. boost its overall finances, which has helped it expand services at Wishard.
"Our first priority is to invest in the care of the residents of those homes: in the direct care to patients, the improvements to staff, the improvements to the physical plant," Gutwein said. "To the extent that we have more ability to provide care to the indigent and the underserved in Marion County, we've been able to do that."
The extra money comes from a wrinkle in the payment policies of the federal-state Medicaid program. Medicaid rules allow governmental entities—which county-owned hospitals are—to pay their state Medicaid agencies extra fees that will trigger higher federal matching funds, up to a point that lets them receive the maximum federal payments.
Because the Indiana Medicaid program pays nursing homes at rates well below the maximum federal rate, the difference is quite substantial. According to 2009 data, Health & Hospital Corp. was able to get an additional $55 per Medicaid patient per day from the federal government, or a 42-percent increase over the standard reimbursement given by the Indiana Medicaid program.
Health & Hospital Corp. began acquiring nursing homes in January 2003 and has never stopped. It added nine more nursing homes this year, for a total of 53.
According to Health & Hospital Corp.'s financial documents, it paid an average of $950,000 to acquire five nursing homes early this year. What Health & Hospital Corp. acquires is the license for the home. It then hires Indianapolis-based American Senior Communities to manage the homes and typically leases the real estate from the property owner.
Riverview has structured at least some of its acquisitions similarly. It purchased licenses from Bloomington-based CarDon & Associates Inc., then entered agreements with CarDon to lease the facilities and their equipment and to pay CarDon up to 4.5 percent of net patient revenue to manage them.
Questions sent to a CarDon representative were not answered before IBJ's deadline.
Witham bought its four nursing homes from independent owners and is in the processing of hiring a management company to operate them.
Most of the homes Health & Health Corp. has purchased are outside the Indianapolis area, and that's been the case with Riverview's and Witham's acquisitions as well.
For Witham, all four facilities are more than 50 miles from its home base and two are more than 100 miles away. The homes are in Liberty, near the Ohio border; in Sullivan, near the Illinois border; and in Martinsville and Shelbyville.
Ingaham, in e-mailed comments, acknowledged that Witham probably won't transfer many patients between its hospital and the nursing homes, or vice versa. But he noted that Witham has lower rates of readmissions than the national average, and the hospital hopes it can bring that expertise to help reduce readmissions for patients at the nursing homes it acquired.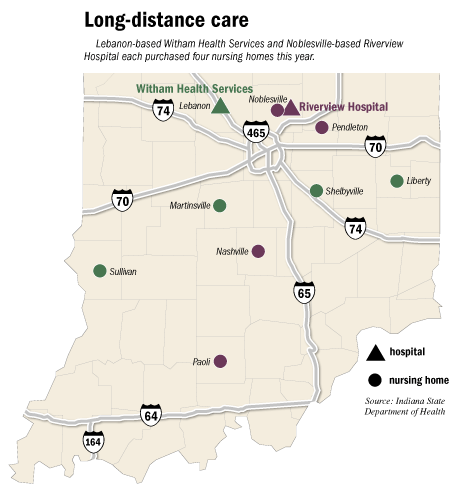 Two of Riverview's facilities are nearby: Harbour Manor Health & Living Community in Noblesville and Rawlins House Health & Living Community in Pendleton. But the other two are in Nashville and Paoli—85 and 125 miles away, respectively.
"Some of the facilities are in our direct service area while others are not.  Regardless, the collaboration and coordination of care is still occurring with the goal to positively affect quality of care, efficiency and costs," wrote Estell, the Riverview spokeswoman.
County-owned hospitals like Riverview and Witham have struggled in recent years, as the costs of recruiting specialized physicians and deploying electronic medical records have risen while the number of patients paying with lucrative commercial health insurance has gone down.
Witham and Riverview have suffered less from those problems than have hospitals in more rural counties. But they have the added problem of dealing with competition from the four large, not-for-profit hospital systems in Indianapolis.
"Many smaller or county hospitals are being 'gobbled' up by larger hospital systems," said Witham CEO Ingaham in an e-mail. "To survive and thrive, the county hospital of today must be innovative, focused and entrepreneurial in its approach. We want to provide great care for patients and we want to remain in existence."
Leaders of both the hospital and nursing home industries expect to see more of these deals.
Scott Tittle, president of the Indiana Health Care Association, which represents mainly for-profit nursing homes, noted that because Medicare recently cut its reimbursement rates to nursing homes 11 percent, there's greater financial pressure than ever to merge.
"That financial pressure, coupled together with certain upcoming requirements under federal health care reform, creates a likely atmosphere for discussions between other county hospitals and long-term-care facilities," Tittle wrote in an e-mail.
Doug Leonard, CEO of the Indiana Hospital Association, agreed, noting that Medicare is making more of hospitals' reimbursement hinge on how healthy their patients are after they've left the hospital.
That gives all hospitals the incentive to combine with nursing homes, with the potential for extra federal revenue making the case even stronger for hospitals like Riverview and Witham.
"Nearly every hospital in the state is open to discussions with its long-term-care providers," Leonard said. He added, "The county hospitals have just kind of awakened to this other opportunity, for federal leveraging."•
Please enable JavaScript to view this content.